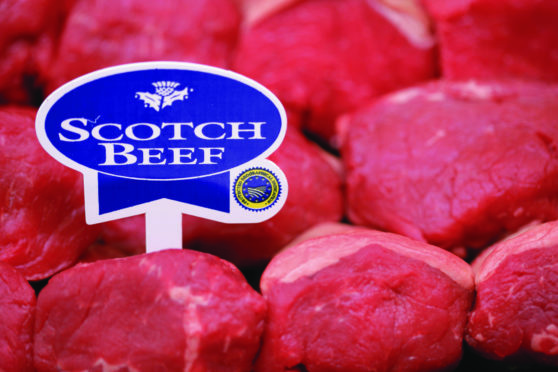 Food Standards Scotland (FSS) has welcomed the introduction of "any process" which would improve the traceability of food and ensure it was what it claimed to be.
The watchdog was responding to the news that the Scottish livestock industry has backed a study into the feasibility of introducing DNA traceability which would help guarantee the authenticity of Scotch beef.
The move follows the revelation by FSS food crime officers in 2016 that they had received several reports of cheaper and inferior foreign beef entering the country and being illegally rebranded as Scotch beef.
The organisation's chief executive, Geoff Ogle, confirmed last month that inquiries into these reports are continuing.
Steps are already in place to help prevent fraud, but according to Quality Meat Scotland (QMS) chairman Jim McLaren, the industry needs to be able to robustly defend the integrity of the Scotch beef brand from anyunscrupulous activity.
"Consumer trust is a key aspect of our Scotch beef brand and protecting the brand is vitally important," said Mr McLaren.
"We need to ensure its premium market position is protected and it is possible that DNA testing may offer the potential to take the existing quality assurance and brands integrity measures in place to a new level."
The feasibility study, which is now out to tender, will consider the potential benefits the introduction of a beef DNA traceability system could have on the Scotch beef brand and how a DNAtraceability system could beimplemented, including when and where the samples would be taken.
The development was welcomed by the farmers' union whose livestock
policy manager, John Armour, called for a clear account of the potential costs and benefits of such a system to the Scottish red meat industry.
"NFU Scotland's livestock committee originally heard last year from QMS that proposals would be developed on the viability of DNA sampling to guarantee the authenticity of Scotch beef and were keen at the time for there to be athorough study prior to anyintroduction," he said.
"As a union we continue to work with QMS to raise the profile of the Scotch beef and Scotch lamb brands and it is vital that as an industry we look to explore any proposals which can bolster the authenticity which underpins these brands."
nnicolson@thecourier.co.uk