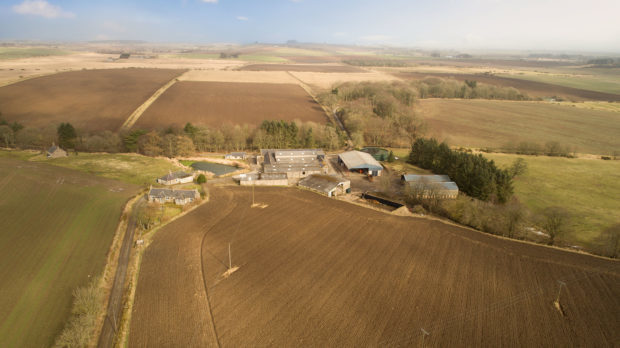 Interest is expected from far and wide for two significant Aberdeenshire farms totalling more than 600 acres which have come on the market.
Cairnfechel Farm at Udny has a range of modern farm buildings and productive farmland extending to 194Ha (480 acres). It also includes a six-bedroom
farmhouse and five farm cottages and is available for sale as a whole or in two lots.
The farm itself has an asking price of offers over £2.3 million and a second lot of land at North Coullie is available for offers over £620,000. As a whole, the asking price exceeds £2.9m.
Just five miles away at Keith Hall near Inverurie, Hill of Crimond Farm
comprises productive arable farmland extending to 46.4Ha (114.6 acres) and a range of farm buildings.
This property is also on the market in two lots. The farm is for sale at offers over £475,000, and bids of over £65,000 are asked for the farm buildings and paddock. As a whole, Hill of Crimond is marketed at offers over £540,000.
The land was owned and farmed by Norman Watson Taylor, who died last year aged 90. Mr Taylor was the third generation of his family to farm at Cairnfechel since the family moved there in the 1850s. The land carried a dairy herd of 160 Friesian cows until 1995 when the family decided to focus on arable farming.
The sale is being conducted by Aberdeen & Northern Estates (ANE) which described the package as a "prime equipped Aberdeenshire farm property in a renowned arable and livestock region of the country".
ANE director James Presly added: "Given the scale and specification of the farms, we are expecting interest from near and far.
"This sale includes bare arable land opportunities at North Coullie and Hill of Crimond, whilst a buyer may also wish to continue running the entire portfolio together in line with the efficient and expansive operations of the late Mr Taylor."
nnicolson@thecourier.co.uk