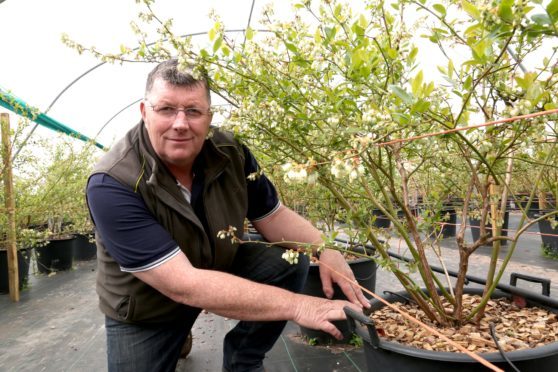 The sweet Ava Star strawberry variety bred by Arbroath-based Angus Soft Fruits has been shortlisted for a top honour at this year's Horticulture Week business awards.
It is nominated in the "best new edible crop variety" category due to its improved taste, texture, appearance, disease resistance and the fact it extends the season, yielding up to a month longer than other varieties.
Allen Innes, the company's farm manager at East Seaton Farm in Arbroath, has also been shortlisted in the awards' "soft fruit grower of the year" category.
Mr Innes is praised for using his wealth of experience to regulate crops and encourage new growth while delivering a consistently significant yield of high-quality berries.
He has also been the driving force behind a potted blueberry investment at East Seaton that has more than doubled the tonnage of blueberries.
Angus Soft Fruit was established in 1994 with the aim of selling fruit
directly to retailers, while the Angus breeding programme was set up a few years later to help produce a distinctive berry.
The programme focuses on improving the standard of berries grown and reducing dependence on pesticides while ensuring growers are able to make a sustainable return on their crops.
Dave Griffiths, the company's head breeder and research director, said the Ava Star strawberry was the result of years of hard work to develop a high-quality strawberry to rival existing industry standards.
He said: "We know this variety is popular with retailers and consumers so to be shortlisted for this award is just fantastic."
The AVA Star strawberries will soon be on supermarket shelves and two other AVA varieties, AVA Blush and AVA Rosa, will also be available this summer.
The winners of the Horticulture Week awards will be announced at a presentation in London on June 28.
nnicolson@thecourier.co.uk