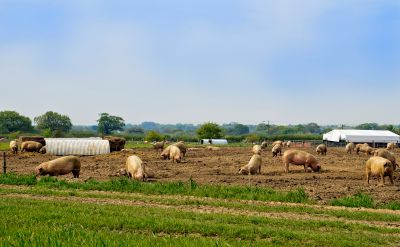 Pig slaughtering will restart at Brechin abattoir in the middle of next week if supplies of vital CO2 gas for the humane stunning process are delivered as promised.
Scottish Pig Producers chief executive Andy McGowan said yesterday that production, which has been running at 6,000 pigs a week, would begin as soon as the gas was delivered.
"There is no lead time, and farmers are ready to supply pigs at once," he
said.
"We had been working on the assumption that we wouldn't get supplies until the following week, but it looks promising to get started earlier which is important because pigs are building up on farms and our customers aren't getting supplies of Scottish pigmeat at a time when pork is popular for barbecues.
"The stoppage is certainly having an impact on the business."
Meanwhile Quality Meat Scotland has granted a temporary derogation to allow some pigs which would have been slaughtered at Brechin to be processed in an abattoir run by Tulip at Ashton and still remain eligible for the Specially Selected pork brand.
QMS chief executive Alan Clarke said: "Quality Pork Ltd made us aware of the challenges they anticipated at an early stage and have kept us updated daily on the position at the Brechin plant.
"The processing capacity at Brechin accounts for around two-thirds of
the pigs slaughtered in Scotland, and QMS is keen to support the Scottish pig and pork industry to limit the impact of the temporary closure of this abattoir, including any animal welfare implications."
The Scottish farmers' union added its weight to appeals for the pig and poultry industries to be given priority for supplies of CO2 gas during the current shortage.
NFU Scotland (NFUS) president Andrew McCornick wrote to UK Secretary of State Greg Clark and warned that these sectors were finely tuned and relied on animals leaving farms at a certain time because new stock came in behind.
"Any disruption to the ability to move stock ready for the market can rapidly have consequences on the space available on a farm, and replacement animals cannot be simply turned off like a tap, they need to go somewhere," he wrote.
Brechin's £10 million facility is run by Quality Pork Ltd, a company formed by a collaboration between pig farmers and the major processor Tulip Ltd.
nnicolson@thecourier.co.uk