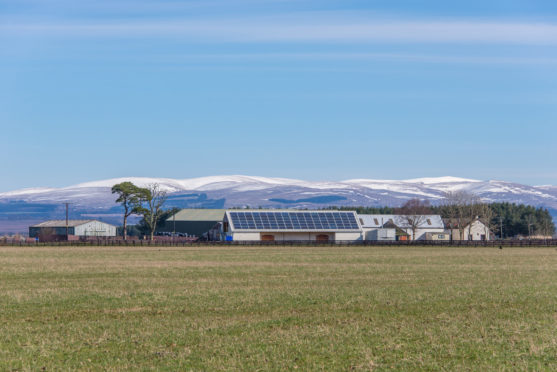 Demand for farms in Fife, Perthshire and Angus remained strong and sold at prices above the national average in 2018 according to land agents, Galbraiths.
The company,  which marketed more than 100 farms and blocks of land in the last 12 months, reports some prime land in the area selling in excess of £10,000 an acre.
Duncan Barrie, head of the firm's agricultural sales centre in Stirling, pointed out the significant price difference between the most and least productive arable land and said the sale of Mains of Boquhan near Stirling was a good example of the strength of the local market in 2018.
"The sale offered a rare opportunity to acquire a block of land equipped with an excellent range of farm buildings but also with considerable commercial assets including a shop and office allowing a number of diversification projects," he said.
"Priced at offers over £1,235,000, the farm sold well at a closing date with a number of bids received."
In East Lothian the company said the relative shortage of top arable farmland available for purchase was reflected in high prices and the market in Ayrshire was reported to be particularly strong.
Mr Barrie added that a number of Irish buyers had acquired farms and land on the west coast in competition with existing local famers.
In areas close to major towns and cities, properties were often sold in lots, with lifestyle buyers purchasing the farmhouse and buildings and the land sold separately.
Mr Barrie said the creation of new commercial woodlands continued to underpin the demand for more marginal upland hill and pasture land, and smallholdings in central Scotland were attracting interest from buyers who wanted a rural lifestyle whilst still being within reach of Glasgow, Stirling and Edinburgh.
Looking ahead, Galbraiths expects land price stability to continue in 2019 partly because of an anticipated reduction in supply driven by the continued uncertainty of Brexit.
Meanwhile Mr Barrie stated that many farmers who took the decision to sell land had been deliberating about retirement for a number of years.
"(They) have opted to retire now, perhaps earlier than first envisaged in order to pursue other family commitments or business interests, as opposed to a risk of being forced to sell due to ill health and other financial pressures which may occur in the future," he said.
"The combination of low interest rates and more favourable opportunities in terms of long-term loans have helped to attract a number of buyers who were able to secure finance for a farm or land purchase."
nnicolson@thecourier.co.uk