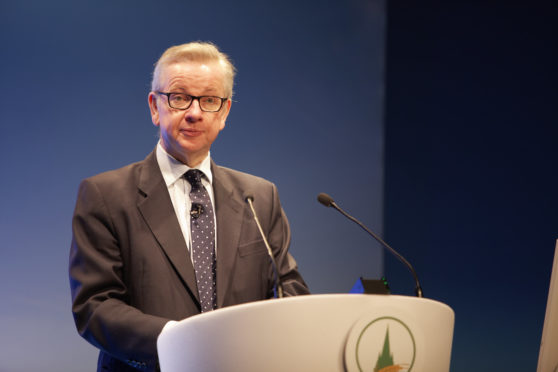 Leaving the European Union without a deal would put at risk "real gains" from Brexit such as boosting productivity in farming and protecting the environment, Michael Gove has said.
The environment secretary warned the Oxford Farming Conference of the impact to sectors such as agriculture if the UK crashed out of the EU without a deal.
While he said a nation as adaptable, resilient and creative as the UK would flourish over time even without a deal, "the turbulence which will be generated by our departure without a deal would be considerable".
Mr Gove added: "It would hit worst those who are our smaller farmers and farm businesses."
He said tariffs, border checks and labour pressures would all add to costs for food producers.
"Nobody can be blithe or blasé about the real impacts on food producers in this country of leaving without the deal," he told the conference.
Mr Gove has previously set out plans for payments for "public goods" such as managing land for flood prevention, creating habitats for wildlife, delivering clean water and improving public access to the countryside.
Looking beyond Brexit, Mr Gove said the world is facing a fourth agricultural revolution, with new technology from gene editing to artificial intelligence, robotics and data analytics to reduce costs and improve yields.
National Farmers' Union president Minette Batters said that, less than 90 days away from Brexit, there was still "enormous uncertainty" about the future and how domestic food production would fare.
The NFU warns that British agriculture could face huge disruption as a result of not being able to export agricultural products to the EU if its role as an exporter has not been reapproved by Brussels by March 29.