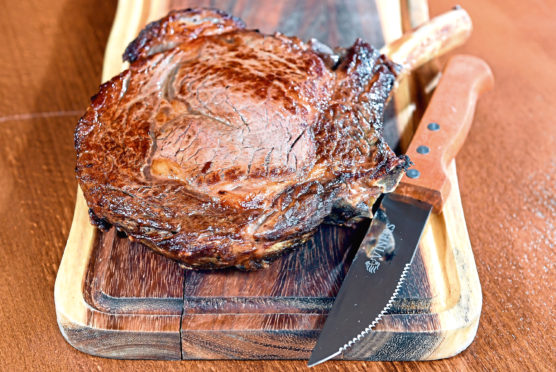 Farming leaders say the measures required to bring the UK beef industry "back from the brink" rely on supermarkets, meat processors and the food service sector stimulating demand and guaranteeing transparency by putting the country of origin on their labels.
The presidents of the Scottish, English, Welsh and Ulster farmers' unions met in crisis talks at the Royal Welsh Show at Llanelwedd yesterday as the beef industry continues to struggle with a long period of depressed prices, and their short-term solution was an appeal to retailers to step up the promotion of UK-produced beef, which is safe, high-quality and fully traceable.
They insisted urgent and collaborative action across the entire supply chain was necessary and said the downward pressure on farm gate prices could not be allowed to continue.
"While we accept that this is a complex situation and there are a number of factors affecting this drop in price, beef farmers cannot continue to sustain this decrease any longer," they said.
"Let's be absolutely clear – the sustainability of UK beef production is at stake here."
The leaders acknowledged support from some UK retailers – notably the Co-op, Morrisons, Waitrose, M&S, Lidl and Aldi – in selling 100% fresh British beef.
However, the presidents said "very significant" potential exists because Tesco, Sainsbury's, Asda and Iceland represent 59.6% of the grocery market.
The summit resulted in a five-point plan that includes the need for UK levy bodies to raise awareness around the values behind UK beef production and to support the export, retail and food service sectors to deliver on new opportunities, including the recently-opened Chinese market.
Governments have been asked to review their public procurement commitments and assess the impact on the UK beef market of the €100 million cash boost provided to Irish beef farmers, while also considering mitigating measures to protect UK beef production.
They said any imports in the wake of Brexit had to be of the same high-quality standards as British beef.
"We need greater transparency within the supply chain with a fair and equitable split of risk and reward alongside greater retail, food service sector and processor collaboration with the producer," the leaders said.
"The supply chain must unite and support producers of a high-quality product that is undoubtedly a favourite with consumers across the UK and beyond."
nnicolson@thecourier.co.uk