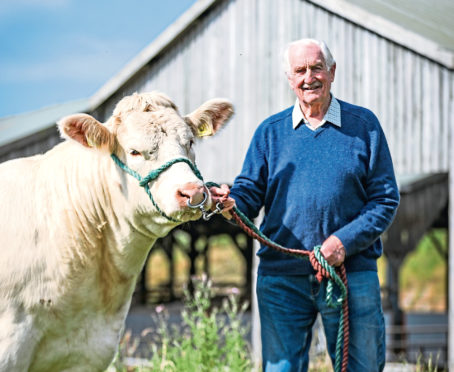 A Charolais breed milestone and half a century of renowned pedigree stockmanship in the Sidlaws is about to be celebrated with a big Balthayock birthday party.
A prime Charolais heifer is quietly maturing at the butcher, three lambs will be cooked Argentinian-style over an open fire and 300 invited party-goers will enjoy a post-lunch tractor-trailer tour of the farm's 1,500 acres.
Major David Walter's "wonderful adventure" with Charolais cattle began 50 ago, yet despite his undoubted success with the breed, he says he is still "just half way there" in his quest for the ultimate herd.
Sitting behind his desk in an office festooned with portraits of championship bulls, he talks warmly about 50 years of fun and getting the jigsaw pieces in the right places but adds: "breeding cattle is a very slow process and you can't do everything you'd like to do in one lifetime."
The herd's prices and honours are too many to mention – although winning the Royal Highland Show's individual interbreed award last month was undoubtedly a day to remember – yet ask Major Walter about the highs of the last 50 years and the response is modest.
"You can win a championship and sell a bull for a lot of money sometimes but that's a moment of pleasure and satisfaction," he says.
"The real achievement is getting the support from people who've bought our bulls and trusted us, and who can be sure what's on the label is what they get.
"Perhaps that's the lasting achievement, to find enthusiasm and belief in what we're doing and build up a reputation for integrity."
It all began when the old MacDonald Fraser mart in Perth put in a weighbridge for livestock.
"Instead of animals being sold on their nice big fluffy ears and being well presented, they were weighed, so I realised we had to be prepared and produce better cattle," said Major Walter.
"Charolais were just starting to come in, but I was working in London at the time so I had to sell the idea to my old friend and farm grieve, Hector Campbell – who responded by saying the day a Charolais walked on to the farm was the day he walked off."
He smiles: "It would only work if he supported the idea – so I had a bit of selling to do."
They inseminated 20 commercial cows with Charolais genetics that year but 18 had Aberdeen-Angus calves because the bull was turned out a bit early. Nevertheless, when it came to the calf sale in Perth, an Angus made the top price, and the two Charolais crosses were next.
"That got Hector on board!" he says.
They went together to the Royal Show that year and Hector chose a six-month-old calf, still at his mother's side, as the herd's foundation bull. It cost the Major 5700gns, an astronomical price when his "good year in the city" bought him an Aston Martin for 4600gns.
He says: "We felt like pioneers as it was the first Continental breed to come in to the UK. I was sold on them from the start as they're just really good cattle with terrific live weight gain."
Major Walter quickly adopted performance recording which was, he says, a "massive tool for the improvement of the genetic value of cattle".
"We have been using the highest-rated bulls on the cows with the weakest figures to try to bring the whole herd up," he explains.
"All the information is used in conjunction with other Charolais cattle with the same parentage, so there's an immense network.
"Commercial buyers are way ahead of pedigree breeders in adopting breed plans because pedigree breeders maybe put looks ahead of genetics by instinct, but the commercial buyer recognises a dead calf is a disaster so easy calving is needed – yet not without losing performance.
"My preferred breed for heifers is now a Charolais because I know how to select a bull that is safe."
Invariably Major Walter gives credit for the herd's successes to the stocksmen and women who look after them. In the early days that was Hector Campbell and now Tracey and Davy Nicoll are as dedicated to the animals as their employer. He attributes most gratitude, however, to George Barton, the SAC adviser who taught him to farm.
They will all join him in celebrating his 50 years of "fun, excitement and modest achievement".
nnicolson@thecourier.co.uk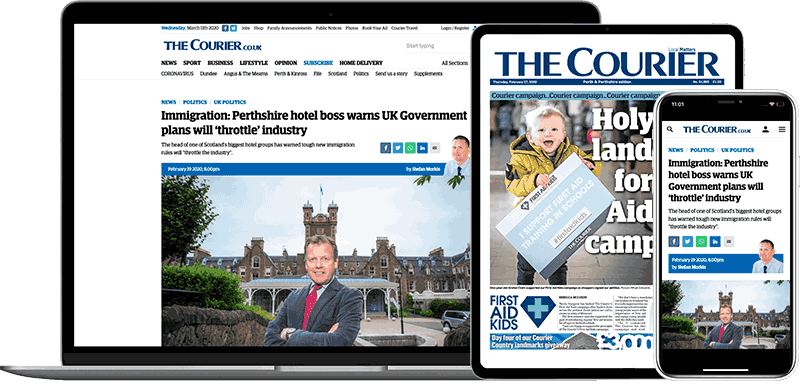 Help support quality local journalism … become a digital subscriber to The Courier
For as little as £5.99 a month you can access all of our content, including Premium articles.
Subscribe