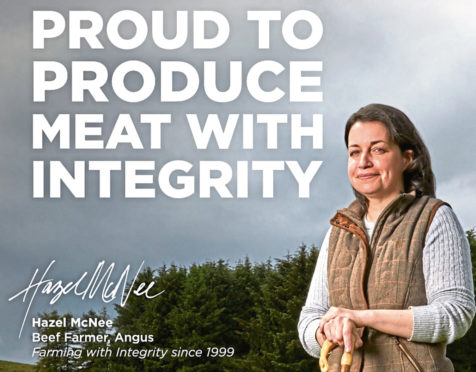 The Scottish red meat industry's new offensive against negativity and misinformation launches next week with a social media campaign promoting quality-assured animal welfare and sustainability credentials.
Quality Meat Scotland (QMS) says the £200,000 campaign won't be a short-term fix for the beef price crisis.
From Monday, four Scottish beef, pork and lamb farmers will appear on social media platforms giving personal accounts of their dedication to the welfare of their livestock and the environment and communities in which they work.
They will also appear on billboards in train and bus stations and on the Glasgow underground.
QMS chief executive Alan Clarke said the campaign was designed to show meat produced in Scotland was "different and world-class".
He added: "Short-term economic issues happen for lots of reasons outwith people's control, and we're in the most difficult circumstance ever seen, but in the past farmers and others have coped, they've come through it and I've no reason to think they won't continue to do that.
"What's needed now is for us to be able to show people that when they buy good quality Scotch red meat there are all these positive things about it.
"We're talking up our industry, but this isn't going to solve a short-term economic problem."
QMS chairwoman Kate Rowell appealed to all Scottish farmers to spread the #meatwithintegrity message across social media.
"Almost everyone in the industry shares a sense of frustration about the lack of balance and accuracy in the media and social media in recent months, but now we have a real opportunity to pull together as an industry in a concerted effort to get the facts out," she said.
nnicolson@thecourier.co.uk