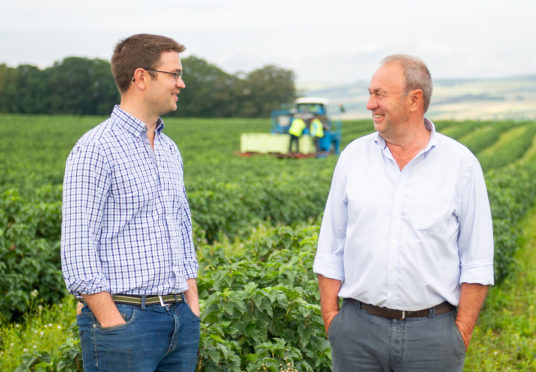 It's not every farmer who would welcome 400 members of the public onto their land in the midst of the hectic fruit harvest, but Meigle growers George and Douglas McLaren will spend most of next Saturday taking tractor-trailer loads of visitors on tours of their blackcurrant fields – and then invite them to pick-your-own (PYO).
The Big Berry Bash at Bankhead of Kinloch, which visitors have signed up to join, is organised by Lucozade Ribena Suntory (LRS) the blackcurrant crop's end user, to give members of the public an insight into the way the crop is grown and harvested.
The day will end with a barbecue, bouncy castle, mocktails made from Ribena and garden games.
Around 90% of all Britain's commercially-grown blackcurrants are produced to make Ribena, and Bankhead of Kinloch is one of just four dedicated growers in Scotland, who together produce 1.25k tonnes of the fruit on contract each year.
Blackcurrants are regarded as one of the easiest soft fruits to produce because harvest is mechanised and the fruit is grown in the open air rather than under plastic.
The bushes can last seven years whereas raspberries usually need to be replaced every couple of years.
The McLarens grow five different blackcurrant varieties which flower and ripen at different times in order to spread the risk of frost damage in the spring and stagger the harvest which runs from the third week of July through to mid-August.
---
Courier Farming is now on Facebook. Click below for news, photos and videos
---
The crop has been grown at Meigle since 1991 and the McLarens now dedicate 150 acres to blackcurrants, complementing the 50 acres of strawberries, raspberries and blueberries grown in tunnels, and their other enterprises which include broilers, cereals and potatoes.
The farm has a long tradition of growing soft fruit and George says he "grew up in the berry fields" when his father started growing raspberries and strawberries in the 1960s.
The McLarens ran a successful PYO business from the 1970s, but when soft fruit became readily available in supermarkets and home-made jam declined in popularity they decided the business model needed to change.
"The younger generation wasn't interested in picking fruit and we found the people coming along to pick their own were mainly grandparents with their grandchildren," said George.
Douglas added: "We either had to go down the pick-your-own route properly and put in a coffee shop, or take the commercial route and focus on the supermarkets.
"However, because people kept returning to the farm we still offer ready-picked fruit and jam berries in the farm shop, but it's just a small fraction of the fruit we produce."
LRS require their dedicated growers to follow a bespoke six-point biodiversity action plan as a commitment to farm sustainably.
At Bankhead of Kinloch that includes erecting 60 bird boxes on the edges of the blackcurrant fields, sowing wild flowers, planting trees and managing hedgerows. Ribena boasts that collectively its 35 blackcurrant growers across the UK have restored 200 miles of hedgerow, built over 2,000 nest boxes and sown an area bigger than London with pollen and nectar rich wildflowers.
Meanwhile the strawberries, raspberries and blueberries produced at Bankhead are marketed by Angus Soft Fruits to major retailers and, while demand is high, the McLarens say they have no plans to expand.
"The main problems are concerns over the availability and cost of future labour," said Douglas.
"We employ around 100 seasonal workers, mainly from Romania, Bulgaria, Poland, Hungary and the Czech Republic and we have a high return rate of over 60%. When it's organised far enough in advance it works well, but it's certainly getting more difficult."
Big Berry Bashes will take place across four UK locations this summer.
nnicolson@thecourier.co.uk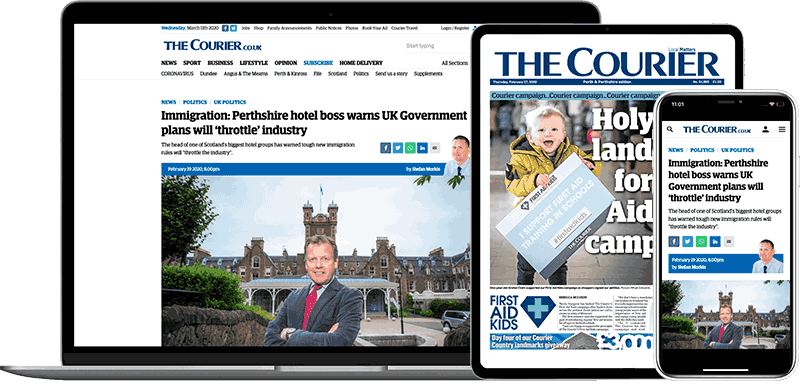 Help support quality local journalism … become a digital subscriber to The Courier
For as little as £5.99 a month you can access all of our content, including Premium articles.
Subscribe