Perseverance finally paid off yesterday when the chancellor confirmed Scottish farmers will receive £160 million of EU funding owed to them since 2013.
The massive injection of cash for Scottish agriculture – the "largest uplift in memory" according to the farmers' union – follows the pledge made by Prime Minister Boris Johnson during his election campaign.
All parties – the Scottish Government, the farmers' union, MPs, even the Scottish Conservatives – claimed credit for the result at the end of six years of campaigning to get the "convergence" funds, Europe's farm support uplift intended to make Common Agricultural Policy payments more equitable across the EU, returned to the target nation.
Back in 2013, the UK Government shared the dividend across all nations instead of transferring it to the Scottish Government, with farmers and crofters north of the border receiving only £30m. Reviews of that decision were frequently promised but not delivered until this year.
During yesterday's Spending Review announcement, the Chancellor Sajid Javid said: "…the government is providing £160m to farmers and land managers in Scotland in relation to historic allocations of Common Agricultural Policy 'convergence' funding."
Rural Economy Secretary Fergus Ewing welcomed the announcement, confirmed the money would be ring-fenced for agriculture and called on the UK Government to return it as soon as possible.
"I have doggedly argued for this money to be repatriated to Scotland's farmers and pressed the UK Government to right this historic injustice, which has deprived farmers, crofters and land managers of vital support," he said.
"So, I welcome today's announcement by the UK Government that Scotland will at last get the £160m we are due."
NFU Scotland (NFUS) said a "fundamental wrong" had finally been corrected.
Union president Andrew McCornick said: "Today's landmark announcement recognises the historic injustice in allocation of monies and, since 2013, numerous Defra ministers have regularly attended NFUS events and promised a review.
"That review of future intra-government funding allocations, carried out by Lord Bew, is awaiting publication and it is our expectation that the forthcoming conclusions will ensure that fairness underpins any future funding settlement for agriculture from now and beyond Brexit."
The union's board of directors will now meet to discuss how they believe the money should be allocated and will then share their views with the Scottish Government.
nnicolson@thecourier.co.uk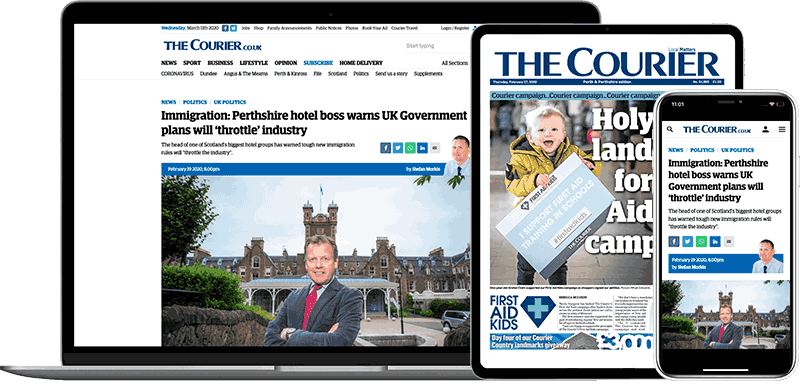 Help support quality local journalism … become a digital subscriber to The Courier
For as little as £5.99 a month you can access all of our content, including Premium articles.
Subscribe