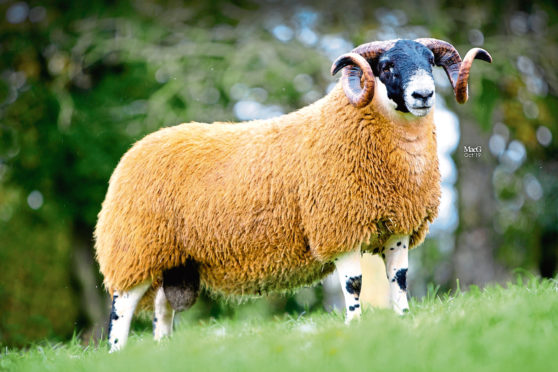 North-type Blackface rams peaked at £10,000 and South-types made up to £18,000 at the Perth Ram Society sale, held at Stirling Mart.
Trade was steady throughout for the North-type sheep, but overall averages were back on the year by £27 for the lambs and £91 for the shearlings, and the day's best trade was for sheep from the Hamiltons of Woolfords, West Calder, with shearlings at £10,000, £9,000 and £4,000.
Leading the way was the overall champion at the previous day's show, a son of a £10,500 Achdregnie.
He was knocked down to the judge, Tom Adams, of Northern Ireland, buying along with Stephen Duncan, Achdregnie, Glenlivet.
Next best from the Woolfords pen was a son of a 2,000gn Conway tup, out of a ewe by a 1,200gn McCurdy, which sold at £9,000 to a trio of Northern Ireland breeders – the Conway Bros, Kevin McAleer and Cathal Breslin.
David Baillie, Calla, Carnwath, sold to a top of £5,000 in the shearlings, for a son of an 8,000gn McEvoy, out of a ewe by a home-bred son of a Harkin tup. He went to Doldy Farms, Blairgowrie.
Best for Bert Grant's Glendamph flock, from Glenisla, was a £4,200 bid for a shearling by a home-bred son of a Conway ram, out of a ewe by a £2,000 Chamberwells. He was sold to Cadogan Estates' Auchnacloich flock at Amulree.
In the lamb ring, top price was £5,500 for one from the Baillies at Calla, which sold to Northern Ireland buyers James Carson and Sam Adams.
Meanwhile, averages for South-type rams were up on the year for both shearlings and ram lambs.
Leading the trade, at £18,000, was a ram lamb from Hugh and Alan Blackwood, Auldhouseburn, Muirkirk.
Sired by last year's £160,000 Elmscleugh purchase, and out of a daughter of the £50,000 Crossflatt, he sold to Alastair McArthur, of Nunnerie, Elvanfoot.
The Blackwoods sold another by the Elmscleugh sire, this time out of a ewe by an £85,000 Elmscleugh, at £5,000, to Archie and John MacGregor, Allanfauld, Kilsyth; Jimmy and Donald MacGregor, Dyke, Milton of Campsie, and Neil and Stuart Barclay, Harestone, Banchory.
Best in the shearling ring was a Connachan one at £8,000, which sold to Nunnerie.
He is by a home-bred son of a tup known as the Wheelbarrow (a £4,000 Gass), while the dam is by a home-bred son of an £18,000 Midlock.
At £7,000, Burncastle Farming, managed by Alan Rogerson, at Lauder, sold a shearling by a £13,000 Glenrath, out of a ewe by a son of a £21,000 Glenrath, to Sam McClymont, Tinnis, Yarrow.
Jimmy and Donald MacGregor, Dyke, Milton of Campsie, received a steady trade for shearlings, selling to £4,200 for a son of a £3,000 Elmscleugh, out of a ewe by a £20,000 Dyke. He sold to RW Baynes, Blackford Farm, Croy.