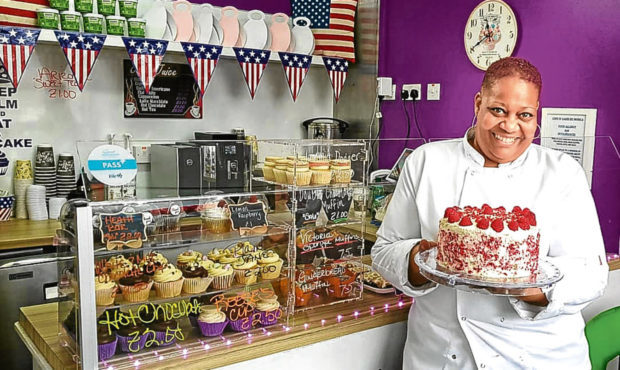 What does your business do?
We are an American custom cupcakery that specialises in creating cupcakes, cakes, brownies, and whoopie pies the American way. We can create any flavour of cake from your favourite ice cream and dessert to your breakfast! Most of the ingredients we use are imported directly from America to keep it as authentic as possible. Those we cannot find are then locally sourced.
How and why did you start in business?
I come from a family of bakers and culinary chefs, and I learned to bake from an early age so it's in my blood.
Most of my flavour combinations are taken from family recipes handed down through generations that I've now tweaked to make my own.
When I moved to Scotland in 2009, I met my partner on holiday while in Amsterdam and after a year of travelling back and forth across the Atlantic, we decided to make it official and I moved to Scotland and we married. In 2011, I registered as a sole-trader and began baking part-time for friends and small events as I was also working full-time as an IT Consulting Executive working for Health Plan and Insurance organisations in America. I changed the name of the business in 2013 to Cups n Cakes by Monica, registered as a limited company and since then have grown my clientele by having regular stalls at farmers markets and events. I also cater for private events and take bespoke one-off orders, and opened my first cupcakery in Links Street, Kirkcaldy, last year.
How did you get to where you are today? I owed a small catering company in Las Vegas which catered food and baked goods, set-up, employed wait staff, and offered event planning for SMEs.
That all gave me great experience to draw from. I also think believing in myself, having a determination to succeed, working long hours, connecting with Business Gateway Fife and a lot of family support has helped.
Who has helped you along the way?
I had lots of support from my Business Gateway adviser, Sarah Howarth, which helped me get started.
She was amazing, particularly helping me through the start-up maze as business practices in Scotland are vastly different to those in the States.
Of course my wife, Audrey, has been my biggest cheerleader and I've had great support from family and friends; even from those in America.
What was your biggest mistake?
Expecting the business to be an instant success. I wish I had gone to Business Gateway sooner than I did, as I would have realised that I'd set my sights too high for a new business and that things take longer than expected.
What do you hope to achieve in future? My goal has always been to expose Scotland to true American baking and flavours that you wouldn't normally get to experience here. I would like to see Cups 'N' Cakes open another location so more people can experience the joys of American baking.
Do you want to recruit in the future? Yes, at some point in the near future.
What is the hardest thing about running your own business?
Being a one-woman show. Right now I do all the baking and decorating, run the front of the shop, complete admin duties, and I still work the farmers markets, festivals and events around Scotland. That means I get little downtime because I'm always involved in something.
Any advice to wannabe entrepreneurs? Seek advice from Business Gateway from the beginning, because it has all the tools you need to help you get started. Set realistic expectations, get a good accountant, and plan for the unexpected.