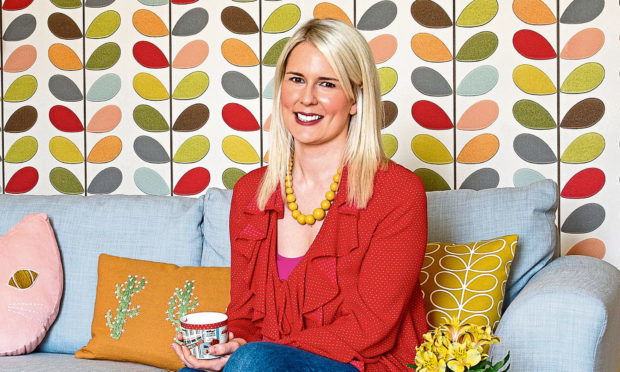 What does your business do?
Workshops, team-building events, kids' parties and private classes.
I also work as a freelance textile designer and have done for 15 years.
Why did you start in business?
I have always been hugely passionate about teaching and sharing my ideas and knowledge with others.
As much as I love running workshops for other companies and organisations, it has always been a dream to set up a school and host classes in my own space.
I love being able to invite people into my magical world of craft-making and inspire them with all of my colourful and quirky designs and interior decor!
How did you get to where you are?
I worked as a design consultant for Rowan Yarns. The job involved demonstrating and running workshops at large stitching shows and events.
This gave me the confidence to start teaching my own workshops, and I went on to do so in a number of schools, art centres and universities across the UK.
Rowan Yarns also published my first book which kickstarted my career as a designer and crafts author.
Who has helped you along the way?
A couple of years ago, when I was on maternity leave, I started to explore new ways that I could grow my business, but I wasn't sure what direction to take it in and where to source funding.
I met with Fraser McKee at Business Gateway Fife who explained what the funding options available were.
He also gave me lots of ideas, as well as a list of contacts and offered follow-up support. I have been in regular contact with Fraser over the years and he has always been there to give me advice, answer my business questions and give me useful information on current loans and grants. My parents have also been a great support and have always been there for encouragement.
However, I couldn't do what I do without my husband. He helps me on a day-to-day basis, whether it's working on my website, making craft tutorials, looking over instructions and doing DIY jobs in my studio.
Your biggest mistake?
I always make the mistake of working on too many different projects at the one time and often get carried away.
Your greatest achievement?
Presenting on TV. I used to present live items on a STV lifestyle show.
I got the opportunity to work with celebrities – definitely the highlight of my career!
Hopes for the future?
I would like to take on bigger premises at some point, somewhere large enough that would allow me to have a shop, workshop area and a space for making and designing.
I would also like to work on more books, develop my own range of products, create more videos for my YouTube channel and start my own interiors blog which is another huge passion of mine.
Do you want to recruit in the future?
At some point, I would like to be in the position to take on someone that can help me with my marketing needs and someone that could assist in the general running of my business.
The hardest thing about running your own business?
As I am a small business, I don't have a huge budget for marketing so getting the word out there has been quite a lot of work, although word of mouth and social media have really helped.
Advice to wannabe entrepreneurs?
Do it! I am really proactive and always have been.
If you want to run a business you need to be willing to work hard at it and be constantly thinking of new ways you could improve and develop it.
I would also encourage people to get in touch with Business Gateway.