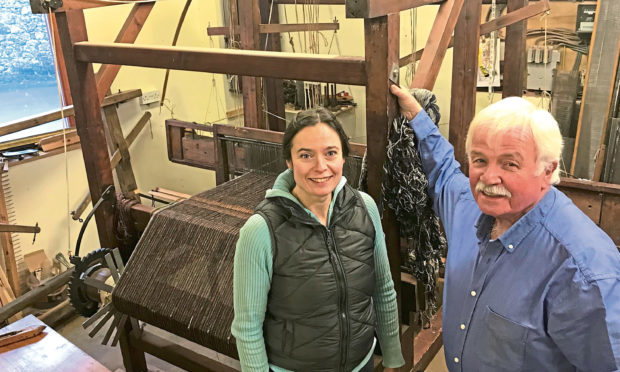 Newburgh Handloom Weavers was set up by Erika Douglas and Jimmy Hutchison. Erika tells of their journey.
Q. Why did you start in business?
We are passionate about keeping traditions alive by supporting an industry which goes back generations.
We weave traditional tweeds using Scottish wool, dyed and spun in this country, and although there are many weavers in Scotland, we are only one of a handful who produce tweed in the traditional way.
We produce short lengths of single-width, high quality woollen tweed in a variety of designs and colours all entirely hand woven.
We felt that in order to preserve this method of weaving we had to set up our business, where Jimmy can pass on his skills and knowledge so that tweed can continue to be produced in this way.
Q. How did you get to where you are?
Jimmy is originally from South Uist and has always had a keen interest in weaving. While working at St Andrews Woollen Mill in the 1960s as a joiner, he purchased his Kennedy loom and taught himself to weave with the help of Highland Home Industries. The HHI was a pre-war government body revived after the Second World War to help foster new and small craft ventures.
In the 1980s, Jimmy moved to the Borders and due to lack of space he reluctantly sold the Kennedy Loom to Stirling District Council where it was used as part of a rehabilitation scheme for young offenders.
When it was no longer needed there, Jimmy was lucky enough to be able to buy it back in 2014.
I grew up in Selkirk, which still has some surviving links with what was once a very large hub within the Borders weaving industry, and I've been working with Jimmy as a joiner.
I've developed a passion for weaving over the last few years and together we're looking to establish and build a long-term sustainable business based on traditional skills, a sense of heritage and a love of wool.
Q. Who has helped you along the way?
The one-to-one advice we received from Business Gateway in Fife has made a difference. We were able to get tailored support in finance and marketing. This knowledge allowed us to effectively carry out market research which shaped both our business and marketing plan.
Q. Your biggest mistake?
No great mistakes so far but we do wish we had started this venture sooner.
Q. Your greatest achievement?
On October 21, we celebrate one year of Newburgh Handloom Weavers. We decided to mark the occasion with an Open Day where people can visit our weaving shed, take part in demonstrations and browse the tweed we have for sale.
Q. Hopes for the future?
We tracked down another Kennedy Loom in a mill in the Highlands and we are currently restoring it. The aim is to have both looms operational which will mean we can increase our product range and the amount of commissions we can take on. We want to develop this side of the business, making products for both individual and commercial clients such as clothing, throws, blankets and scarves.
We also have want to reintroduce linen weaving to Newburgh, once a thriving centre for quality hand woven linen.
Q. Do you want to recruit in the future?
At the moment we will concentrate on weaving and developing the business but in the longer term we are keen to be able to pass on the craft, skills and traditions of this great trade.
Q. What is the hardest thing about running your own business?
Sometimes there just aren't enough hours in the day.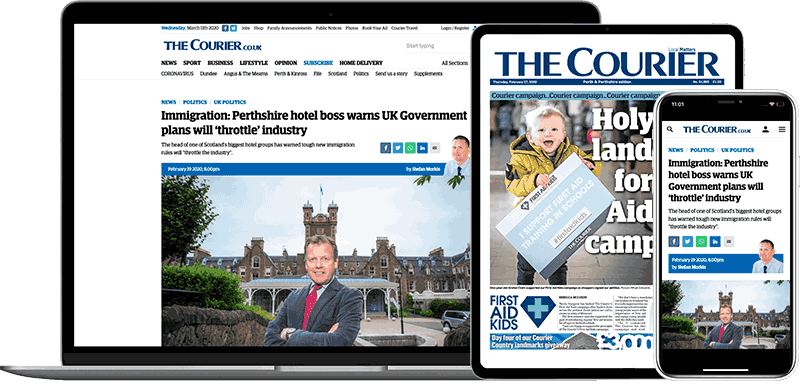 Help support quality local journalism … become a digital subscriber to The Courier
For as little as £5.99 a month you can access all of our content, including Premium articles.
Subscribe