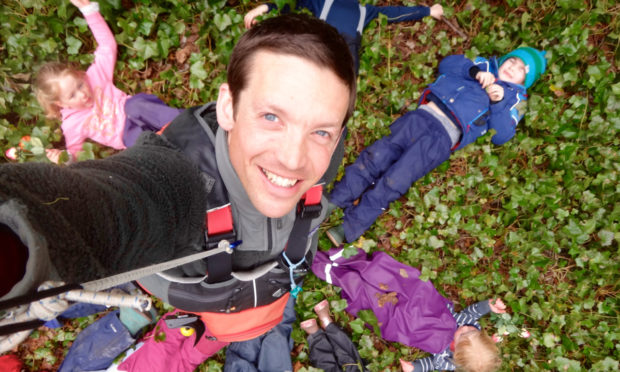 Sarah Turner and her husband Richard (known as Biscuit) run Wee Adventurers, which offers a range of outdoors experiences
How and why did you start in business?
We have a very compatible skill set between us so there was an inevitability that we would end up working together at some point.
We targeted a gap in the market for providing outdoor activities for kids and applied hard work, self-belief, strong skill sets and a broad base of life experience.
Our ability to provide exceptional outdoor experiences meant that we also built a strong reputation relatively quickly.
Who has helped you along the way?
Our friends have been really supportive both with ideas and children who want to get outdoors and adventure.
The Calliacher and Griffin grant which we successfully applied for through community-based enterprise support organisation GrowBiz also enabled us to extend our canoe fleet and business potential.
Your biggest mistake?
Luckily there haven't been any huge mistakes. I did once forget a provisional verbal booking but thankfully when they rang to ask where we were in the morning we were able to add them in to our other booking!
Your greatest achievement?
Starting the business with two children under three and other part-time jobs was a real challenge.
We are very proud to be here, at the start of year three, with a strong business and an excellent reputation.
We were delighted to be finalists in the VisitScotland Regional Thistle Awards for Best Outdoor Adventure and the Perthshire Chamber of Commerce Most Promising New Business last year.
Hopes for the future?
We are passionate about the benefits of outdoor adventures.
And in addition to our established adventure clubs and school holiday activity days, we are keen to increase our outdoor learning work with local schools and also introduce Biscuit's unique positivity to corporate clients.
Do you want to recruit in the future?
We are content to be a small company, adding in some trusted freelance instructors for larger groups where we can.
We are active supporters of Developing the Young Workforce and provide work experience and volunteering opportunities where we can with local schools and colleges.
What is the hardest thing about running your own business?
Working together as husband and wife, from home, has its moments!
Advice to wannabe entrepreneurs?
Don't be afraid to ask for help or employ someone to do the bits you are less good or efficient at.
How do you relax?
We love canoe camping as a family when we can but anything outdoors is good.