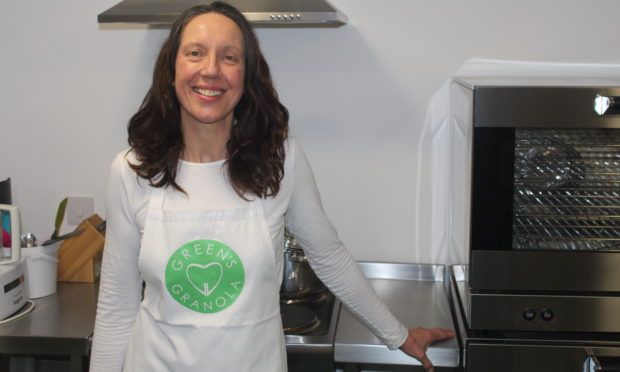 Erika Green started Green's Granola in Auchterarder three years ago
How and why did you start in business?
Before Green's Granola, my career was in teaching and, later, publishing. I was working as a freelance editor and it was between editing contracts that my baking business was born.
I've always loved baking. I decided to try and sell some of the products that friends and family told me were delicious! My granola is freshly baked, genuinely homemade and wholesome.
I use pure Scottish wholegrain jumbo oats, generous helpings of nuts, seeds and/or dried fruit, and I sweeten the granola naturally with honey.
How did you get where you are today?
I started out by taking sample products to local farm shops and delis and was delighted with their positive feedback. Our domestic oven was soon working at full capacity to fulfil the orders that were coming in, and I realised I had to expand. Last year I converted my garage into a separate kitchen with a commercial oven so I could still bake everything at home.
Who has helped you along the way?
My family have supported and encouraged me through all the ups and downs. I have a mentor through the Women's Business Mentoring programme at the Scottish Chambers of Commerce and she has been incredibly helpful, encouraging and inspiring.
One-to-one sessions with GrowBiz enterprise facilitators, as well as their events and learning sessions, have helped me develop the business in a manageable way. My local stockists and customers are a source of ongoing support, feedback and encouragement.
Your biggest mistake?
Not asking for help from organisations like Business Gateway and GrowBiz right from the start. I spent a long time working things out for myself and it's taken me the best part of three years to get to the stage I'm at now.
What is your greatest achievement to date?
Happy customers. I have a stall at Perth Farmers' Market, and positive feedback from satisfied customers always gives me a boost.
Hopes for the future?
This year I want to increase my product range.
I also want to set up a website.
Do you want to recruit in the future?
I love making the granola myself and the freedom of being a very small business. But, realistically, as it grows, I will need to recruit.
What is the hardest thing about running your own business?
The hardest thing is also the best. As a small-scale food manufacturer, I'm involved in every part of the process: sourcing ingredients, baking, packaging, local deliveries, sales, marketing, admin, cleaning, and so on. It's hard work, but it's satisfying.
Advice to wannabe entrepreneurs?
Speak to Business Gateway and GrowBiz right at the start, to hammer out your idea and get ongoing and free support and advice.
How do you relax?
Being outside in the fresh air: I like walking, cycling, getting up into the hills or down to the coast.