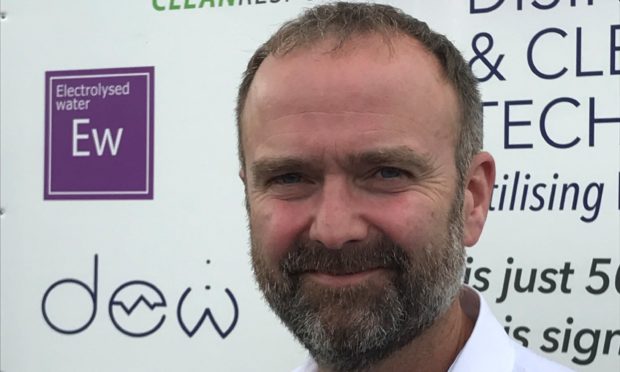 We spoke to Erik Smyth of Dundee based Ecoanolytes which makes a new kind of disinfectant set to remove harsh chemicals from business operations and households.
We caught up with business owner Erik, to find out what sets his company apart from renowned household brands and their business journey to date.
How and why did you start in business?
I wanted to make a difference from an environmental perspective.
I enjoy working with disruptive technologies that can benefit our society and our planet in general.
In a short timeframe we have achieved this.
Our disinfectant products are at least 30 times more effective than bleach at killing germs, viruses and those hospital nasties such as MRSA.
They are safe for use around people, pets and plants and the best bit is there are no negative impacts on the environment.
How did you get where you are today?
The first company I started was a free magazine.
I had no money and little experience, but I managed to convince my bank manager to lend me the money to go to print if I got enough signed orders for advertising, and I did!
This set me on a path to find solutions for those missing products or services in the market.
There have been a lot of difficult years especially in the beginning – starting in business is not easy.
When the opportunity to get involved with a product that has the potential to have such a significant effect upon people's everyday lives, it was too good to miss and so, Ecoanolytes Limited was born.
Who has helped you along the way?
I have had great support from Business Gateway and Scottish Enterprise.
The mentoring side is crucial, you cannot be expected to know everything in business.
Even now, I am constantly asking for help and guidance.
It is important to surround yourself with people who have the experience, especially those from then same field as you and I am fortunate to have these people supporting my efforts.
Your biggest mistake?
Outsourcing sales to a third party.
The deal tuned out to be too good to be true and it cost me financially.
However, it did teach me that there is no easy way or short cuts.
Success in business takes tenacity and some luck, but mainly tenacity.
What is your greatest achievement to date?
Successfully launching our consumer brand Dew Products.
It was a unique challenge and a very steep learning curve, but the brand has been well received.
Dew Products represent a sustainable future for cleaning.
They are vegan friendly and cruelty free and the range is well on its way to becoming a household brand of the future.
Hopes for the future?
We want to see a future where there are no chemical disinfectant or cleaning products.
Our range of cleaners, degreasers and disinfectants do not rely on harsh or toxic chemicals, in fact they are 99.8% water, but are extremely effective.
We are setting up a trial using refill stations in the local community. Consumers will be able to refill and reuse their plastic trigger sprays, reducing the amount of plastic waste and saving money.
What is the hardest thing about running your own business?
Freeing up your own time.
You are not running your business if you are working in your business.
Advice to wannabe entrepreneurs?
Do not give up. It sounds like an obvious thing to say, but it really is the most important thing. You have to believe in yourself and what you are doing – never lose sight of that!