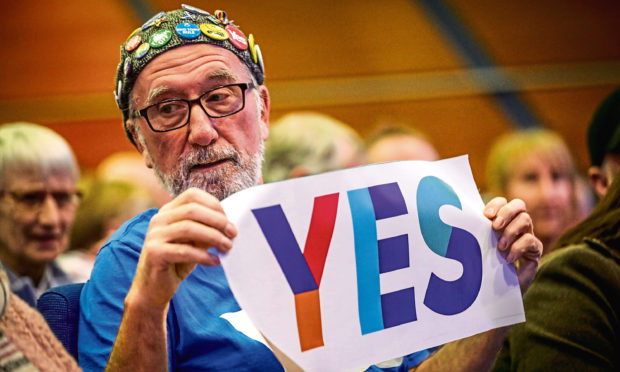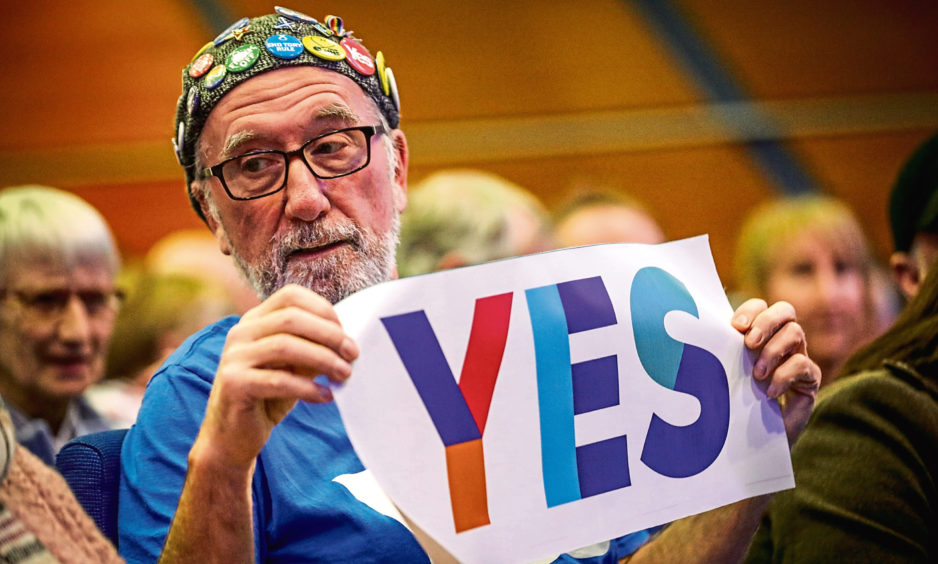 Campaign literature from all the main parties dropped through the letterbox on Monday. Some of it makes fascinating reading.
The Conservative candidate, for instance, has included a picture of Nicola Sturgeon with the message: "Labour and the Lib Dems are just too weak to beat the SNP here."
On the doorstep, Conservative canvassers have found the first minister to be a useful tool; the more they invoke her name, the more support they get.
If she is scaring voters in the constituency, it makes sense for them to deploy her on their leaflets too. And if that doesn't do the trick, the word "independence" is flagged up eight times.
The Lib Dems, meanwhile, give Brexit equal billing, with their slogan: "Stop Brexit. Stop independence."
Interestingly, there is no clue as to who the candidate is, although there are two big pictures of Jo Swinson.
Even more interestingly, there are 12 references to independence or Indyref2, mostly in warnings of division and damage.
Which brings us to the SNP's own effort. This is focused on the campaign to re-elect the candidate, an MP since 2015.
There are four pages of A4 featuring endorsements, plus a photograph and a cartoon of the MP, who is sometimes referred to by her Christian name alone.
There are no images in the SNP brochure of the SNP leader; she has been erased in favour of anonymous locals.
But more astonishingly, there is no mention of independence, or Indyref2, or nationalism, or even secession or separatism.
We can learn about the SNP hopeful's views on the environment, on supporting the creative industries, on Brexit and on Airbnb, but on the single most important issue that drives her party she is completely silent.
This speaks volumes about how the nationalists, and Sturgeon in particular, are faring with just over a week until the election.
Anecdotal evidence suggests this new coyness is being played out in other constituencies like this one, where backing for an SNP MP or MSP at the ballot box does not translate into a Yes vote for independence.
The problem for the party is Sturgeon has gambled everything in this contest on a new referendum to break up Britain.
She has said she will demand a re-run of the 2014 plebiscite "within days" of the general election. And she has said that the SNP winning seats like yours and mine would give her a mandate for that referendum.
Against this threat, the only tactic for an SNP candidate in a broadly pro-union seat is to pretend they have nothing to do with either Sturgeon or her bid to split up the UK.
According to our local Conservative candidate, the SNP vote in this constituency dropped by 6.9% in the 2017 snap poll called by Theresa May, while the Tories went up 11%.
This was mirrored throughout Scotland, where the Tories, then under their popular Scottish leader Ruth Davidson, had a good night, winning seats off nationalists in successful, if isolated, bouts of tactical voting.
The party no longer has such a charismatic campaigner to spearhead its charge, but the most recent separate Scottish polling shows Boris Johnson doing better here than expected.
He probably shouldn't take any credit for that, because it seems likely many Scottish voters, even Remainers, now see him as the least bad option.
He might be losing support in England but that doesn't seem to be reflected in Scotland, and the only difference is the SNP.
Were Sturgeon to stand back and take a good look at her country, with as much objectivity as she could muster, surely she would conclude there is no momentum for separation among the majority.
If solid Scottish Remainers are prepared to put a hard Brexit Tory prime minister back into Downing Street rather than risk another independence referendum, where does that leave her mandate?
I think we can guess the answer. The SNP will still win the greatest proportion of the vote, and could end up with a few more MPs than in 2017. But if they did worse, it would make no difference; in fact, there is probably no result that would convince Sturgeon that the game is up.
However, in sanctioning campaign material that conceals her party's main goal in this election, she is doing exactly what she accuses the Brexiteers of doing in 2016, not presenting voters with all the facts.
She will complain that Scotland is being denied the right to decide its own destiny, if whoever wins next week doesn't grant her a Section 30 order, enabling a referendum, immediately.
But many Scots have already decided, and she knows what they want; she may not like it but her own party's campaign flyers say it all.