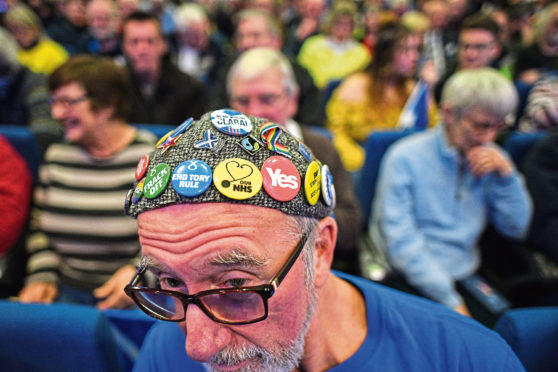 This election is a dollop of Caledonian Antisyzygy.
It means to hold two conflicting ideas at once, a trait thought to be particularly Scottish.
But it's a term not much heard, as 12 years of SNP government has paradoxically made Scotland less reflective. We barrel along with our grudges and spend little time wondering who we are.
Caledonian Antisyzygy comes from a different era, when navel-gazing was more popular.
The warring poles in this election are between promise and performance. The SNP will do very well on its promise of not being Tory while resisting Brexit. This will occur at the same time as its performance is shredded.
The UK government was expected to fare badly in this campaign, but it's the Scottish one that is having the worst of it.
During the hard slog towards the ballot box, we have learned that children have died from contaminated water at NHS Scotland's newest hospital in Glasgow. An ugly blame contest between the Health Minister Jeane Freeman and the health board has shown that neither seem to have a grip.
Freeman has also confirmed that the new Sick Kids in Edinburgh will be delayed by more than a year. This comes as the BMA warned yesterday the recruitment crisis is getting worse.
For a party heavily reliant on the promise that the NHS is safe in their hands, it couldn't get much worse.
That is, until you look at education.
Global comparison figures published during this campaign show Scottish education falling down the national rankings. This comes as other numbers show no improvement in the attainment gap between rich and poor pupils. Worse, education expert Lindsay Paterson argues that the stats show our best schools declining – and still the gap doesn't close.
Crime figures are on the up, while tax receipts are going down. By any normal measure, this should be a stinker of an election for the Nats.
But the opposite is true, if you turn to the polls. The SNP is floating high in that zone Labour used to occupy in the 1980s and 1990s, of around 45% support. Enthusiasm for independence is at the 50/50 mark.
Come results time early Friday morning next week, the SNP will surely be cheering.
But as the nation chews on its antisyzygy, alarm bells should ring in SNP HQ.
You'd expect a government's performance to drop after 12 years. You might even wonder why it isn't lower, given the dogged way much of the cabinet has been around for most of that time. Whatever enthusiasm these ministers once had, most of them look out of ideas while clinging on for some Indyref2 glory.
You can also legitimately point to Tory cuts to explain some of the Scottish Government's woe.
However, in the past 12 years, Holyrood has acquired significant tax-raising powers, which could have helped staunch the wounds.
My fear is that this generation of Nats have simply run out of ideas. They are not able to imagine a new state, which might run better on less money. Nor do they have the wit to answer Indy questions any better than the PM answers Brexit ones.
A good example of this second-rate thinking comes in the election strategy of relying on a Corbyn victory, trading Westminster support for Labour with the granting of Indyref2, but also demanding Trident be scrapped, and if all that doesn't happen, going to court to say it's no fair.
Were it not for the ever-impressive Sturgeon and the ghastly Boris, the SNP would look silly. But Johnson's Brexit , and his Prince Andrew-like persona, means the Nats will do very well. What that will mean for Scotland is hard to tell. Some will have voted for Indy – exactly who and how many, it'll be impossible to tell – while others vote in disgust at the UKs political culture.
But the evidence is in that the SNP are no better at governing – and no further forward on the implications of Indy. As if to underline this, the Institute of Fiscal Studies – who have rubbished both Tory and Labour spending plans – took the trouble to rubbish the SNP's numbers yesterday.
The more support they get, the more people blow hot air into the balloon keeping the SNP in the clouds. But the heavier the basket below gets.
So, 2019 will be a good year for the SNP and also a terrible one. The big vote will disguise its big problems. As ever, it's not independence that's at fault – that remains a very tricky, but not insoluble problem about securing public services on less money while negotiating a happy relationship with London, Brussels and beyond.
What's at risk is the political vehicle that has done so much to advance Indy, without ever truly convincing the nation it has the answers. To sum it up, independence I believe in, it's the SNP I worry about. As inflated as Scottish Labour in its heyday, as disappointing in performance.
Which is what you could call antisyzygy, or just another promise falling apart in reality.