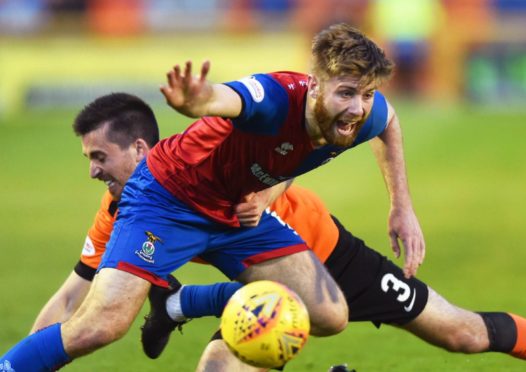 A vital month lies ahead for clubs in this area with the January transfer window offering them the chance to regalvanise their efforts to meet their targets.
I'm not a fan of this window, but clubs who have good contacts and do their scouting and player identification work diligently can sometimes land an unexpected bonus.
Clubs will not only have different positional needs, but also different aims.
Dundee United will have the joint ambition of signing players who can strengthen for what looks like a sure-fire automatic promotion, but also to bolster the squad for life in the Premiership, which will be much tougher than the Championship.
The Tannadice side have added experience with 28-year-old Dillon Powers from the USA, and also youth with 18-year-old defender Kieran Freeman returning from Southampton, in addition to striker Osman Sow coming back from a loan spell at Kilmarnock.
Those three give Robbie Neilson additional depth from back to front, boosting United for the rest of this season while also bolstering the squad for next.
Dundee will also look to add bodies, despite previous suggestions that they wouldn't, to encourage their hopes of landing not just a play-off spot, but importantly second place, which would give them two games less to contest in their ambition to return to the top flight.
Along with St Johnstone, Dundee boss James McPake is keen on Inverness defender Shaun Rooney, and the Caley Thistle defender would bring a physical presence to either side for next season's efforts.
Saints have had their toughest time in the top division for many a season, and need to add to their pool to push on for the remainder of this campaign and to improve for next season.
Both Dundee sides and Saints then find themselves with one eye on the rest of this season while contemplating the next.
It's slightly more awkward for Dundee chasing targets. It's easier for St Johnstone to attract players by virtue of being in the division above and it's also less taxing for United who look assured of being a Premiership side.
Saints need to ensure that any additions that they make to the squad bring the kind of quality and experience which mark a return to the higher standards set at the club in previous years.
* Saints may also need to replace winger Matty Kennedy who is out of contract in summer and now free to agree a deal elsewhere.
Pittodrie looks a likely destination although if the wage differential can be narrowed, the player who has been settled at Saints might be persuaded to stay.
If he moves it'll be a blow to supporters and a brutal reminder that key players and those identified with real potential, have to be tied up well in advance of others showing interest or the cost can be severe.
A club of Saints' size will always sell players but losing Kennedy would be a harsh reminder that while it's important to strengthen the squad, it's equally vital to tie up early the talent already there to avoid losing top quality players for no reward.