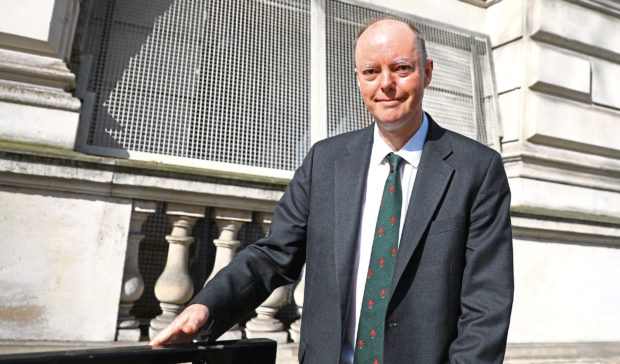 For the coming months, if we heed government advice, we will see little of our friends, probably less of our colleagues and maybe not even our closest family if they don't all live at home.
But one person we will be seeing plenty of is the prime minister, who has pledged to bring daily updates into our homes on the coronavirus outbreak.
The UK, on Monday evening, began to embrace the strictures that have quickly shut down most of Europe and the US, and which earlier had quarantined China and chunks of Asia from the world.
It was interesting to note how rapidly the new draconian message seeped through to different households, based admittedly on a very narrow social cross-section.
It was while Boris Johnson was still at his lectern, flanked as usual by Professor Chris Whitty and Sir Patrick Vallance, the chief medical officer for England and the government's chief scientific adviser respectively, that one of our neighbours sent out a mass appeal via text.
"Let's all go down the pub, as an act of solidarity," she suggested and, if I hadn't been writing this, I would have been one of the first at the bar. Contrarily, my husband, who is not averse to the above venue, could not be tempted this time.
Perhaps after weeks or maybe months of our own company, we will both regret not making that final dash for eve of Armageddon fun.
This is early days, but the shock switch from last week, when Johnson and his team were recommending we mingle to develop "herd immunity" from Covid-19, to now, with outright suppression, will no doubt produce mixed reactions from the British public.
So far, aside from those with genuine concerns about underlying health conditions, or their age, people appear to conform to stereotype on the public obedience spectrum.
So, those prone to cynicism are already complaining that this is all an overreaction, while the habitual hypochondriacs had self-isolated before the new more drastic steps were introduced.
In the vast middle, as always, sit the majority of us, part wanting to be seen to be doing the right thing and part quite keen to preserve our wellbeing.
How our behaviour stands the test of unprecedented public controls, however, remains to be seen.
Unlike China, we will not be forced to observe the official wisdom, which is still voluntary guidance. But closer to home, in Italy, France and Spain, police have been patrolling the streets and there are fines for non-compliance with the lockdowns,
Could Britain, too, mutate into a more totalitarian state, with social distancing infringements soon penalised by law instead of by stigma?
That will depend possibly on the severity of the disease's peak and whether the government can trust us to be socially responsible.
In the meantime, how are we going to endure the inevitable cabin fever and what can we do to help each other and ourselves?
The obvious point is that it will be much, much easier for those of us who live in relatively happy family units than for those trapped in a domestic war zone, or completely alone.
We probably all know who around us needs our help most.
It will be more tolerable for the full-time employed, who will carry on earning whether they are at work or not, than it will be for anyone on zero-hour contracts.
Many people in apparently desirable occupations will find life tough. The musicians, for instance, who won't be paid unless they play, and the actors who need audiences.
Hopefully, farmers will get by because people need to eat, but it is up to the governments, Westminster and devolved, to enable lifeline logistics so some channels remain open for exports and imports.
And it is also within the governments' gift to keep at-risk businesses afloat during the crisis. Not all enterprises need bailouts – supermarkets, for instance, must be thriving.
But the hospitality trade is already being walloped, and many restaurants, pubs and hotels will go under without a safety net.
Government largesse in the form of a temporary rates holiday does not yet go far enough in Scotland.
Here, companies with a rateable value of under £69,000 will get some rates relief.
But as one local businessman, whose hotel falls outside this limit, told me, a medium-sized firm like his employs 30 staff. If occupancy drops any further, and it will, "the lights will go out" and jobs will disappear.
There is not much more our ministers can do to halt the trajectory of the coronavirus, but they can do much to shore up the economy so that key sectors, such as tourism, survive the pandemic.
Our eventual recovery health-wise should not be blighted by an avoidable financial collapse.