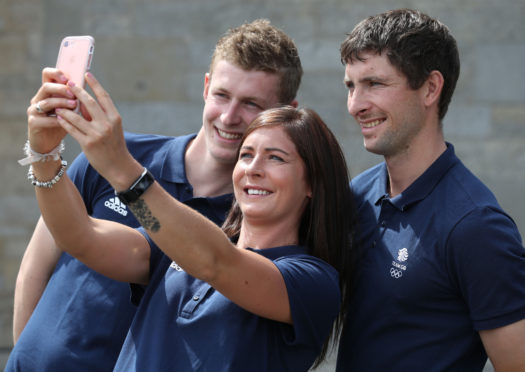 I'm absolutely devastated for my brothers that they won't be on British Curling's funded programme next season.
Regular readers of the column will know that the full-time/part-time debate in curling has been going on for years.
It's a debate I can see both sides of but from Glen and Thomas's point of view, and Kyle and Cammy Smith, I think they've done a really good job of juggling their curling and their farming.
Part of me actually wishes I'd had a second career running alongside my sporting one because it can give you a healthier life balance.
It's certainly worked well for the most successful female curler of my generation, Jennifer Jones. Jennifer's a lawyer as well as an Olympic and World champion.
My main emotions are of a sister, though.
It's really horrible to see your brothers upset and hurt.
Glen's 31, which is still probably not the peak age for a curler, while Thomas is only 25. It's probably hit Thomas the hardest because he's been involved at the top of the sport in the world all the way through juniors.
It has meant so much to me to share an Olympic experience with the pair of them and also compete alongside them for Scotland at European Championships.
To think that it's highly unlikely we'll be able to do that again is hard to get your head round.
It does make you grateful for all that we've been able to do as a family together. There are memories and medals that nobody can take away.
Both of them are such natural talents and have stayed competitive even after they took a step back from full-time sport.
The curling season doesn't start for a few months so they've got time to take stock.
I'd love the chance to team up with Thomas or Glen in the mixed doubles in the future.
And, even if it's back at the Perth Super League and Dunkeld club games it won't be the last time I'll curl with both of them, that much I do know!
* At the start of the coronavirus shutdown a lot of us hoped that it would be a time for some collective thinking in sport.
Unfortunately, in a lot of cases it looks like it's survival of the fittest as normal.
The way in which the men's European Tour in golf is putting a comeback plan together without helping the women's tour is disappointing.
If ever there was a time for joint events, this was it.
And in women's football, the momentum that sport has built up is being lost.
The profile has fallen off a cliff and, again, wouldn't it have been a fantastic gesture if the Premier League in England had put some money aside to make sure the women's top division was able to play to a finish too.
* There's a bit of good news in our sport. The hope is that we'll be able to come back for pre-season as planned on July 13.
With a bit of luck Nicola Sturgeon will have relaxed the rules about indoor sport and then all we'll have to worry about is the airport quarantine!
COMMENT: Not the right way for British Curling to treat discarded Olympic athletes