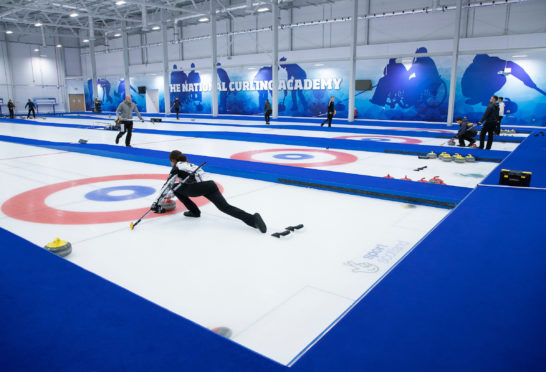 If you've been paying attention to my columns over the last couple of months, the cancellation of curling's European Championships won't have come as a shock.
I resigned myself to the fact it would be called off long ago.
The final confirmation still comes as a blow, though, because you do hold out a little bit of hope that the organisers could find a way of getting us all safely to Norway in November.
I think the cold, hard facts are that curling isn't a wealthy enough sport to finance the sort of bio-secure bubble you need to put on the Europeans.
I'm more optimistic that the World Curling Federation will make sure that happens at the Worlds Championships in Switzerland in March next year, mind you.
There is too much riding on that event in terms of Olympic qualification for it not to go ahead.
Basically 2020 has been wiped out but that doesn't mean the next few weeks and months aren't meaningful.
I'm treating it as an extended training camp.
There will never be another time in my career when I'll get an opportunity like this to work on technique. If you can't sort things out just now, you never will!
All the elite programme teams are back on the ice now and there will be games organised between each other.
We're also going to be taking part in mixed doubles matches.
They will have a lot riding on them because there haven't been many tournaments for the coaches to assess partnerships before lockdown and there won't be many after.
They'll be drilling deep into the shot-analysis and statistics.
It's not full-on competition but it's as near as we're going to get to it for the foreseeable future.
* It's been a story of Scottish comebacks this week.
Nobody should ever be surprised by Andy Murray anymore. The man just doesn't know when he's beaten.
Tuesday's five-setter was a reminder that the competitive edge is just as sharp as it always was.
The long match will probably mean his body won't allow him to go into the second week of the US Open but there's no way he would have put himself through the ordeal of all his rehab if he thought he was just coming back for a couple of last hurrahs.
And I'm intrigued to see Stephen Hendry decide to give it another go.
Something must have happened to persuade him he can properly compete at the top.
He probably can't trust the others to stop Ronnie O'Sullivan matching his seven world titles so has decided he'll have to do it himself!