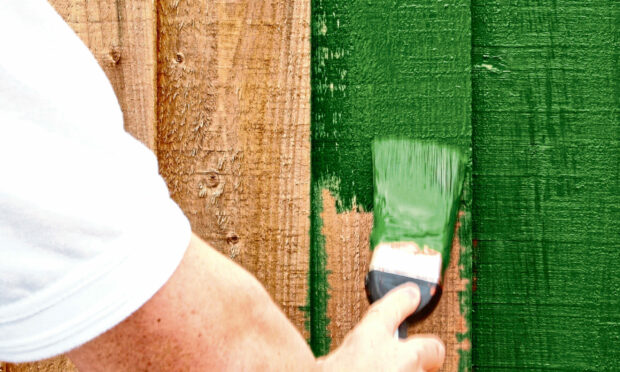 Rab has noticed there's a worrying pattern in his life – starting a project and just never getting round to completing it. At least the kitchen mice aren't complaining.
Do you ever not…? What was I saying? Oh yes. Do you ever not finish things?
I don't mean just sentences but activities. Here's a disgraceful example. My shed has stood with three sides painted for months. The fourth side is still in the older colour – so it's dark green and the other three sides are light green.
True, a wasps' nest was on the last side for a bit, so I was too feart to go near it.
But they've long gone and I've still not worked up the motivation to paint that fourth side.
I think this is a pattern in my life.
Another shocking example – I started blocking off bits of the kitchen to stop mice getting in, but just got bored with it halfway through.
The big work table for sawing the wood has been standing there for ages – blocking the kitchen.
I'm sure the mice think: "I wish Rab would move that thing. It's stopping us getting aboot the kitchen unimpeded, ken?"
On a less substantive scale, umpteen novels remain half-written. I say "umpteen", but I think it's five or six that actually got started, though two at least were finished.
My "ideas" file has around 50 entries.
Non-fiction books – 10 started, another 50 ideas sketched out. I did finish one, but never got round to any of the others.
I haven't sent anything to publishers for 30 years because they're rubbish.
It's nothing personal, but when you think of what happened to JK Rowling and last year's Booker Prize winner Dougie Stuart, for his novel Shuggie Bain – both rejected umpteen times by supposed experts in literature – you realise that these people haven't a clue what they're doing.
It's such a lottery. I believe strongly that publishing, like most things, should be nationalised.
But that's another story.
In the meantime, I need to finish my point about not finishing things.
I used to live in a village in the far, far north and across the road from the house was a pub called The Fisherman's Arms. But the sign just said: "The Fisherma…"
It was like that for many years, and it was clear that whoever started the job got fed up and never finished it.
Or maybe kept nipping in for a pint.
The Fisherma was one of these places that had lock-ins. The first time I went in there one lunchtime, back in the days before all-day licences, the doors were shut at "closing time" and we were just allowed to carrying on toping.
The local lads told me: "We always drink here, Rab. We never drink in the hotel."
Then, some time afterwards, the barman said: "Right, you lot, that's enough. Time to be on your merry way."
And the lads said: "Right, let's go to the hotel." And that's what we did. We went to the place where we never went.
Crazy place. A place where the drinking never got finished.
In the meantime, I've started this column so I'd better finish it. This is the end. Well, nearly. There's just another wee bit to go. I'll finish it in just a wee minute.
Well, just after this next bit. Och – you know what? – I'll come back and finish it another time.