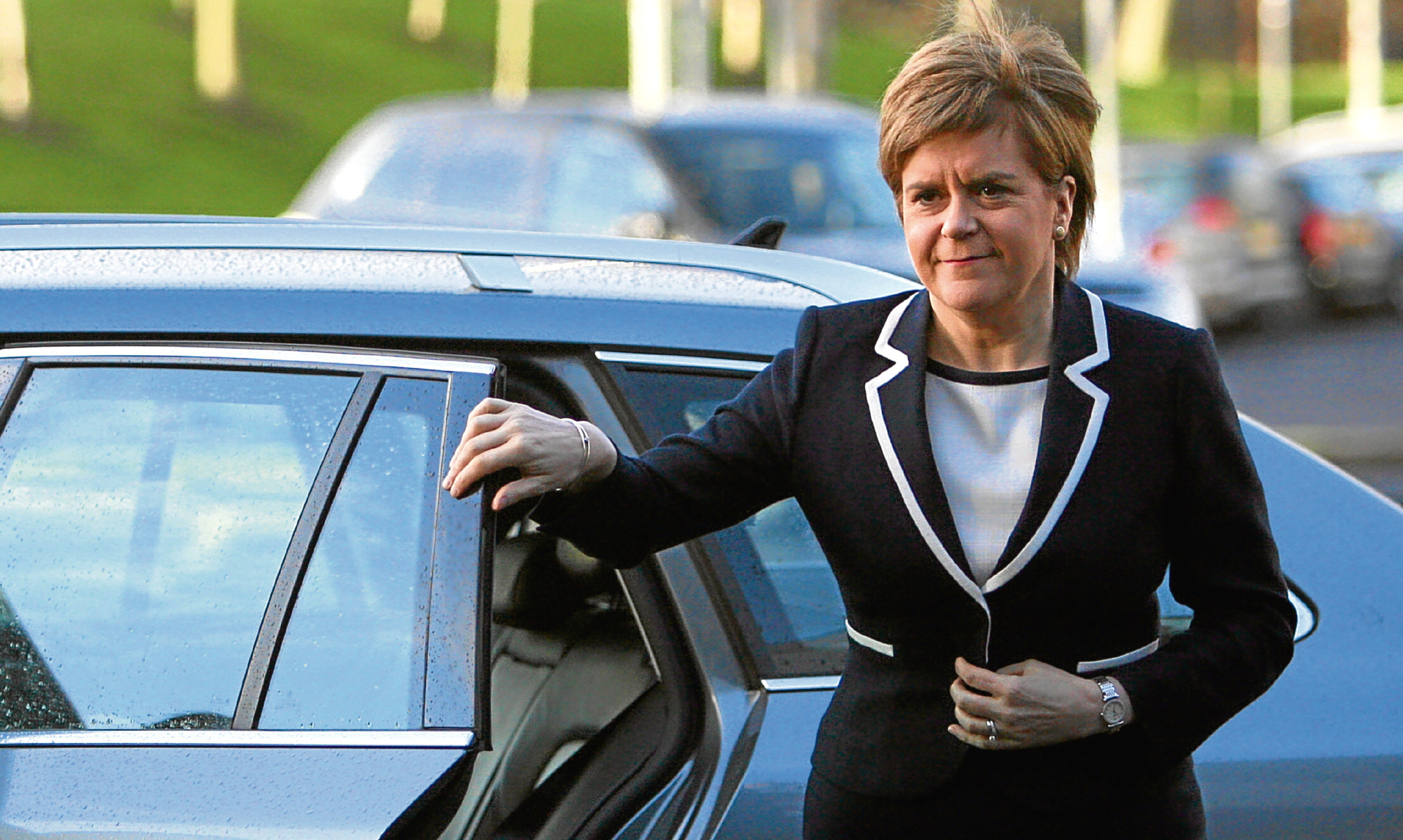 This is the tale of the ball that doesn't bounce.
On December 23 the Scottish Government published its paper on Brexit – Scotland's Place in Europe.
This admitted that there was no leverage Holyrood held over Brexit other than Scotland becoming independent.
The Scottish majority to remain in the EU didn't override the UK constitution; Westminster was still sovereign and Scots had to go along with the UK majority to leave.
Nonetheless, the document did issue a series of demands which Theresa May should concede.
It was said at the time that the "ball was in May's court".
Last Friday there was much excitement over the First Minister saying that if there is a soft Brexit then she will not hold an indy referendum for the foreseeable future.
This was a restatement of a position set out in October 2016.
Perhaps spooked by coverage which suggested this might be a retreat from the true cause, she gave an interview two days later to The Andrew Marr show which used a more bullish tone.
No bluff
"I'm not bluffing" was the headline as Nicola issued a warning to Theresa May that Scotland better get a deal else there will be another independence referendum.
Ball-wise and court-wise, that sounds like Nicola holds the racquet.
It also sounded like she was building up to announcing the date for a new vote.
Minutes later Theresa May, on another Sunday morning talk show, said "we are coming out (of the EU)".
Which, and I'm no sports commentator, was May saying she really didn't care about balls or courts but was going ahead with Brexit.
Sturgeon's bluff had been called – she had to name a date soon or she'd look like the girl who cried wolf.
Come Monday, nationalists were choosing to interpret "I'm not bluffing" as a signal that come March, when the PM is due to set out her Brexit goals, should May say that the UK is exiting the single market, then Nicola would name a date for Indy2.
That too seemed to spook Nicola, who then appeared in another broadcasting studio to tell everyone that the date would not be in 2017.
To try and understand what all this meant, I asked a senior spokesperson if we should expect a referendum date to be announced in March, assuming May says the UK is leaving the single market.
They said: "With the publication of our paper (Scotland's Place in Europe) the ball is very much in May's court.
"We've made clear we are intent on maintaining Scotland's place in the single market – the paper makes clear that could be done in a UK context, so it is up to the UK Government to show it is willing to take those Scottish-specific proposals on board as part of the overall UK negotiating position re Article 50."
Unclear
Any clearer? Me neither.
The Scottish Government has not found a reason why Theresa May should treat Scotland as sovereign on the matter of single market membership. So what possible motive should May have to be "willing to take those proposals on board"?
The fact of that matter is that the only person standing on this court is Nicola, holding a referendum ball and not willing to bounce it. The Scottish Government has come up with no compelling reason for May to play along, balls or not.
The only legal path Scotland has to being in the single market if May decides to pull the UK out is to become an independent country and then negotiate back in.
May leads a sovereign government responding to a national vote to leave the EU. She has no compelling reason to cut a deal for Scotland, which rejected becoming sovereign in 2014, nor any reason to fear another indy referendum.
The SNP has made it clear there will be no new vote unless there is a good chance of winning and those circumstances haven't occurred, so the "threat" is really balls.
What is upsetting about this for nationalists is that independence has become a threat in the first place.
Scotland's opportunity to govern itself is about Scots making the best of Scotland, reliant on our wits and resources. It isn't meant as an act of vandalism to the UK. Yet the SNP leadership now only speak of it as a device to push or punish Westminster.
Irrelevance
The total absence of new arguments for independence is striking by its sheer irrelevance to Nicola's strategy.
Her calm leadership has delivered no better case for independence and has reduced sovereignty to a threat – and a hollow one at that.
You have to hope this isn't Sturgeon's strategy but a piece of terrible advice she has been foolish to enough to follow and will recover her senses soon.
Quite what she says for the rest of the year is anybody's guess. What she can't say without inviting ridicule is another version of "you do that and I'll hold another referendum".
On consideration, this tale of the ball that didn't bounce is quite depressing.