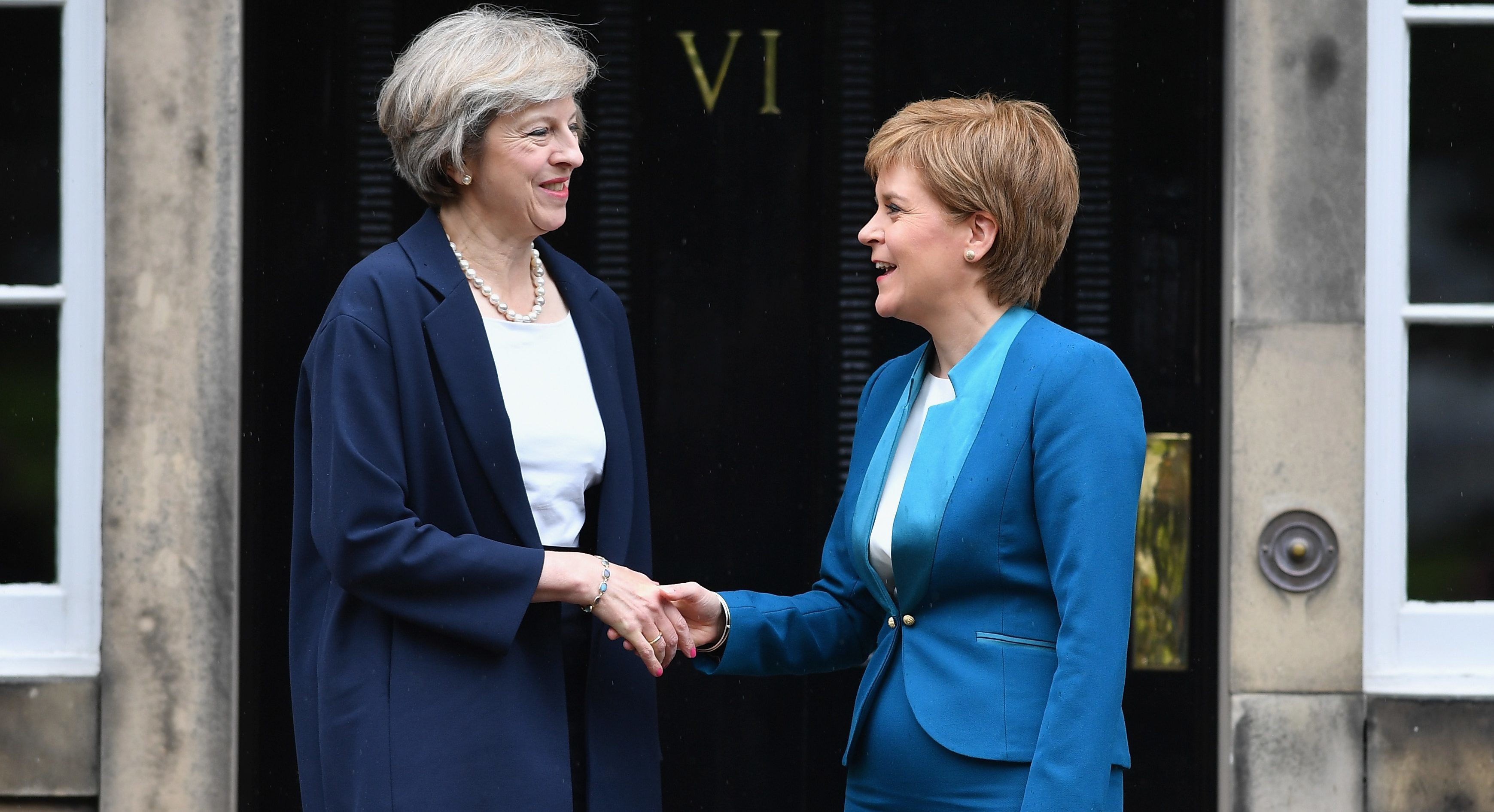 It is strange how Britain has two similar nationalist governments.
Not so long ago, most Brits would have told you they didn't do nationalism.
All that vulgar stuff about flags in the front lawn and pride – frightfully poor taste.
Now you cant move for saltires, union jacks or EU star circles.
In London a nationalist government is pursuing a parochial agenda about bringing powers back home and talking up the benefits on offer.
And in Edinburgh, it's much the same but without the referendum victory.
Neither government has set out an actual plan for the new nations they promise. Both work on a need-to-know policy that could be the envy of the CIA.
And they fight like two rats in a bag, insulting each other for their long tails and sharp teeth.
At a conference in Edinburgh last week the Scottish Government's Brexit minister Mike Russell accused Downing Street of "talking up a pot of gold at the end of Brexit, but there is no pot of gold".
Fair enough, but that pretty much sums up what unionists said of Russell's argument for independence.
Theresa May gave a British nationalist speech to the Scottish Tory conference in Glasgow, accusing the Edinburgh government of being obsessed with nationalism.
Eh? The Tory party has been obsessed with Europe since Margaret Thatcher signed the Single European Act in the late 1980's.
May said Nicola Sturgeon was sacrificing the health and education system for the dream of Scottish Independence.
That may be true – the SNP domestic record is poor, and few other governments would get away with perpetual 'crisis'.
That few however, includes May's government, which has troubles mounting up on the home front.
Yet, what is going on is a straight fight – May wants to beat Sturgeon in a clear victory of one nationalism over the other.
Compromise between London and Edinburgh on Scottish access to the EU seems quite sensible, when looked at from a UK point of view.
May has ruled it out.
This seems like cutting off her nose to spite her face because the machine that drives the UK economy is the City of London. The money men in the square mile would very much like to keep membership of the EU.
Without it they talk of moving HQ operations to the continent or Ireland, so that they still have the advantages of the single market.
This would be a substantial blow to the UK economy.
If Scotland still had access to the single market, then these vital wealth-makers could stay within the UK tax jurisdiction.
A compromise over this matter would also stop another disruptive Indy referendum.
It would seem like a win-win.
But May wants none of it. She wants to defeat the Indy threat for a generation.
The only way she can do that is by either forcing the SNP into a referendum that they lose, or by calling the Nat bluff and so making Sturgeon look weak.
To do that, Theresa May must close down Sturgeon's options – so no leeway even if concessions would be of benefit to everyone in the UK.
The result of keeping Scotland in the single market while the UK exits is not even pursued – not because we are, in May's words, "one people" but because she wants to kill off the SNP threat.
That is also why she urged voters to support the Tories at the up-coming local elections – she wants Scottish politics to become a straight fight between Indy SNP and Unionist Tory.
Sturgeon now finds herself in tricky situation – having built up expectation of another vote, she has readied the nation for a significant announcement at or around her party conference.
However, for Nicola to call Indyref2 when Brexit is on-going and popular support is not firmly for her, is risky.
If she ducks Indyref2 in the near future, perhaps by saying she'll wait to see how Brexit looks, she will lose the appearance of firm leadership
If she goes gung-ho to the ballot box, she might kill off her own political goal.
The irony of this is that May's strategy rates the concerns of Scottish unionists above the long term economic stability of the UK – which could have profited from a best of both worlds compromise over the single market.
This battle between nationalists may also be demonstrating how limited sovereignty is as a tool for securing western democracies.
Both Edinburgh and London suffer from poor domestic performance not because they aren't sovereign, but because the modern state is more expensive than the electorate in Scotland or England are prepared to admit.
Social Care and the NHS just need lots more money, and that argument has no space to breathe in a political debate which is all about who has what powers.
Neither Scottish or British nationalism has a pot of gold at the end of the identity rainbow and both are distracting from the desperate need for Britons to pay more to keep the fabric of society together.
Its a grand spectacle, this fight, but with no clear prize.