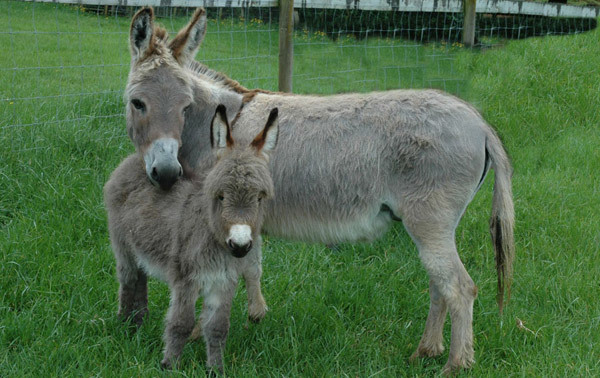 Monday brings a different e-mail. It is from the Chairman of the 'Miniature Mediterranean Donkey Association'. I have never heard of these creatures. Let alone realized that they have a club all to themselves. Investigation is called for.
Miniature Mediterranean donkeys are originally from Sardinia and Sicily and their diminutive size – generally no more than three feet high – once made them perfect for turning grinding stones for grain in low-ceilinged Italian houses.
Today these tiny mules are rarely seen in their native lands – and, happily, they no longer have to labour from dawn to dusk.
In the last century these small-scale animals became popular as pets in America. And now they are catching on here, too.
And why not? They are said to have the "affectionate nature of a Newfoundland, the resignation of a cow, the durability of a mule and the courage of a tiger."
I look them up on a donkey website and see a variety of colours and some engaging names: Hamish, Harry and Hottie, Moses, Molly and Muffin…
Anyhow, the reason the association gets in touch is that they think I have filmed these winning animals at an agricultural show. It was not me. But where we do take our cameras this week is to a classic car rally.
Twelve hundred vehicles are on show at Thirlestane Castle in the Borders. From the cream of the vintage crop – the Rovers, Rileys and Rolls Royces – to less flashy models.
There is the 1965 Ford Zephyr my father used to motor round in. It cost him three times his annual salary and he thought he was the bees-knees. There is the iconic VW Beetle I learned to drive on back in the seventies and the racier Triumph Herald I progressed to, a car that could turn on a sixpence.
There are military motorcycles. There are Massey tractors from the '50s and Bedford vans from the '80s. The oldest Scottish car on display is an Arrol Johnson, made in a Dumfries factory in 1914. All trips down Memory Lane. Well, maybe not quite that far back…
Two Victorian Scots may have invented and developed the pneumatic rubber tyre – thank you Robert Thomson and John Dunlop – but Scotland is not overly noted for wholesale car production.
In fact, Linwood near Glasgow was the only mass car-production factory. Designed as a rival to the mini, almost half a million Hillman Imps were produced there in the 60s and 70s. Mind, they could have made more if they weren't always on strike. In one year alone, there were 324 stoppages.
I long to own a part of motoring history. I can see the MacNaughties in an open-top car, the wind in their faces as we pootle along…
Then I take a rain check. I am clueless as to what goes on under a bonnet. So four legs is probably better than four wheels. Yes, a wee donkey sounds a much safer bet…