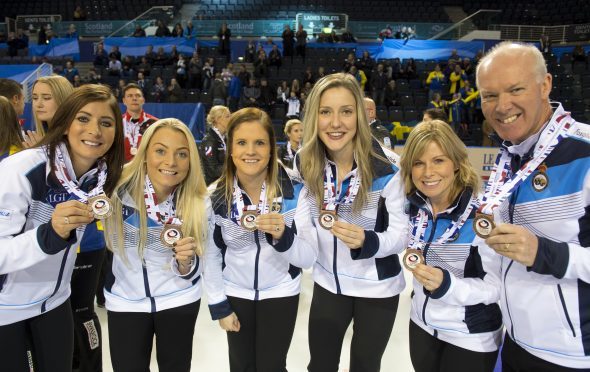 There are a lot of achievements in my career that I'm really proud of and medalling is the last seven European Championships is definitely one of them.
That's every one I've been at.
We're in Switzerland just now hoping to make it eight.
I don't know the official statistics but I'm sure it's a record that not many curlers will have and shows how consistent we've been as a team over those seven years.
There have been a few too many slivers and bronzes for my liking and the last gold was 2011 but the way we've always treated the big events is that coming home with a medal is the main aim.
Obviously this year the Europeans are a big milestone before the Winter Olympics, which are only a few months away now.
I do think that we're due to get gold again and we've prepared very well for this one.
But European curling has definitely improved a lot since that last gold in 2011.
The average age of teams has come down and the fitness levels and game knowledge have gone up.
In Switzerland and Sweden they have real strength in depth.
We maybe don't have that same competition in Scotland but that's another compliment to the standards we've maintained ourselves so I'm not going to complain about it.
We've got Sweden first in the round robin and Russia second, with Switzerland pretty soon after that.
The three of us will be at the Olympics so we'll be having a good look at how we're all playing.
I'd definitely sacrifice wins at the Europeans for wins in February.
Our coach knows what he wants to see from us over the next few days and if he gets that, but doesn't get the gold, he'll be happy.
Even if we won and there were things that didn't go to plan, he would tell us.
The whole season has been built around performing our best in Pyeongchang.
* Aura is a huge thing in sport.
In curling, when you play against a Canadian team in a Worlds or Olympics you just know that they're going to be strong because of what they've had to do just to get there, and the rich history their country has in the sport.
Rugby's equivalent is, of course, New Zealand.
The worst thing that Scotland can do against them at Murrayfield on Saturday is to play the badge.
You have to have respect for any opponent but not too much respect.
There have been times when I've come off the ice thinking that I built up a team to be better than they actually were.
But by then it is too late – which doesn't feel nice.
A lot of the things Scotland did last weekend were very good and hopefully the Samoa game will have got rid of a bit of rust as well.
We have shown that when we're at our best we can definitely compete against the top nations.
And, who knows, if we don't over-play how good the All Blacks are going to be maybe they will down-play how good we're going to be.