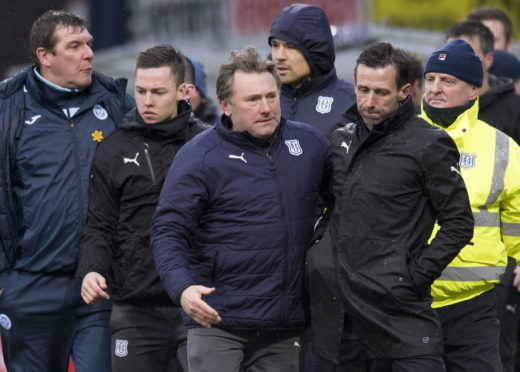 Let's not kid anyone on – this is a difficult time for Dundee.
There were supporters leaving after the second goal went in on Saturday and to lose 4-0 at Dens Park to St Johnstone was unacceptable and concerning.
It wasn't nice to see what unfolded after the final whistle, either.
It would have been better for Neil McCann and everyone else involved had they all just walked up the tunnel.
Neil has a pressure job and I will leave it to him to defend himself.
What I will say, though, is that the players now need to do their bit to help him.
They must take responsibility for that defeat.
Next up is a trip to Aberdeen this weekend and the set of fixtures going into the split (after the Dons they play Hearts, Celtic and Rangers) will test Dundee to the limit.
I have said it before and I make no apology for saying it again.
What is needed at Dens is a return to the spirit of the Dee-fiant season when we were all in it together – manager, players and supporters.
The atmosphere at every game that season was special.
It was, without a shadow of a doubt, the best I experienced in my time at the club.
If there were setbacks during a game or we went behind, a roar would go up from the Dundee fans and the players would be spurred on again.
I am cautiously optimistic that Ross County are too far behind to catch them but I don't even want the club to end up in the play-off spot.
So points have to be found and what will help the players is a bit of Dee-fiance from the fans.
~ After Alex McLeish was appointed Scotland boss for the second time, I wasn't exactly excited about the news but I did wish the man well.
I want McLeish to be a success because I am a Scotland fan.
He had a blank canvas and it was encouraging to see new players getting called into his first squad.
I was particularly pleased to see midfielder Kevin McDonald in there – a familiar face to Dundee fans (he played for the Dark Blues from 2005 to 2008).
Kevin always looked like a potential international player and has been in squads before  and I'm glad that he has been given a real chance to impress at that level.
McLeish will probably go back to the more experienced players when the competitive action starts but I'm looking forward to watching McDonald and the rest of the new lads in the forthcoming friendlies.