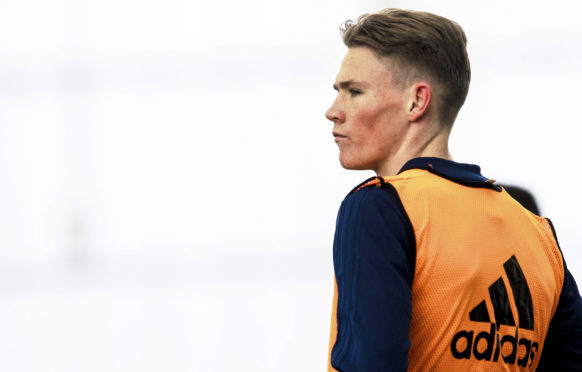 We're about to see what an Alex McLeish Scotland team will look like.
I had my reservations when he got the job and the fear was that there wouldn't be much of a change from the Gordon Strachan era.
But I've been encouraged by the squad he selected and the talk about how we're going to play.
Kieran Tierney's injury was a blow because three at the back, with him as the left of the three and Andy Robertson as the left wing-back, seems like a good long-term option.
As a left-side combination, they have the potential to be one of the best in Europe.
I've also got a feeling Alex will have a look at both of them as captains before our next qualifying campaign gets underway.
They might not be experienced as far as age is concerned but they've both got the experience that matters – plenty of top level games under their belt.
And the pair of them strike me as boys who would lead by example.
Midfield is another interesting area. We've probably got more options there than anywhere else.
Scott McTominay is the player everybody wants to see perform in a Scotland jersey. To have someone who is a Manchester United regular in our team is a huge boost.
The most important thing for him though will be to make sure he plays his own game.
He's made his name at Old Trafford by doing the simple things well and taking up good positions on the pitch. Just because he's now playing international football doesn't mean he should try to get too clever.
I'm sure that's the message an experienced coach like McLeish will be giving him.
As for the team as a whole, winning isn't the most important thing in friendlies. It's about finding out who can be relied upon when the real matches get going again.
Hopefully the new boys will take their chance.
* Dundee were better against Aberdeen than against St Johnstone the week before but it's all about points at this stage of the season.
They have lost six out of seven since the January window closed but I don't necessarily think that means the three departures have been the reason.
Yes, Scott Bain has done well for Celtic since he's got his chance but he wasn't playing for Dundee anyway.
Scott Allan showed a bit of magic now and again but he too was far from a regular because of injury.
Jack Hendry was the only one playing week in, week out.
But, it has been at the other end where Dundee's biggest problems have been, which has been the case for pretty much the whole season.
All the strikers have had their chance – Haber, Moussa, El Bakhtaoui, Leitch-Smith and Murray.
The goals per game ratio just hasn't been good enough.
Craig Wighton's return could come at the perfect time.
He's been scoring goals for the under-20s and Neil McCann said he was in his squad for the Aberdeen game.
If he can get some first team football in the last three games before the split he could be like a new signing for Dundee for the last five games.
He's bulked up while he's been sidelined and if he's played just behind the striker he could make things happen and hopefully come up with a couple of crucial goals himself.