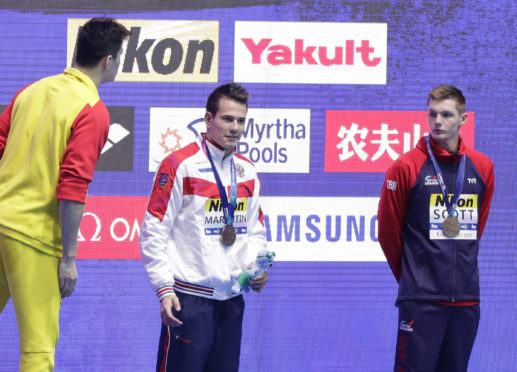 Duncan Scott is a confident young man who has stood up for what he thinks is right.
If I had been beaten by someone who has served a ban for doping and has a potential second one hanging over him, I'd like to think I'd have the courage of my convictions.
I'm sure he would have put a lot of thought into not joining Chinese swimmer Sun Yang on the podium after their 200m freestyle final a few days ago.
He would have known that China are a powerful sporting country and, with the Olympics going to Tokyo in a year, the way the Asian public view him is an issue going forward.
I wonder if he feels let down by his sport's governing body.
When a proven cheat is allowed to race and somebody making a stand against him ends up getting a warning letter, you have to question where FINA's priorities lie.
What's more important….having a clean sport or not having anybody rock the boat?
I know what the general public would say.
* I had a really enjoyable round of golf at Loch Lomond earlier this week.
I've wanted to play for ages and it totally lived up to expectations…..especially in the weather we've been enjoying!
The place has a vibe that is unique in Scotland and the course is up there with the best I've played.
I did some work for the BBC when the Scottish Open was last played there and wouldn't it be great if a way was found to take the event back.
* I don't know what Scottish Golf's plan for the next few years is but they could do worse than just find out what Ireland's was 15 years ago and copy it!
It has been a stunning run of Majors they've had, topped off by Shane Lowry at the weekend.
Sometimes comparing the sporting success of nations isn't fair but there is no reason that Scotland shouldn't be capable of setting their sights as high as Ireland.
Robert MacIntyre making the top 10 in his first Open is a start but we need a lot more contenders to emerge.
* After three years, Glenn Howard will no longer be our coach.
It wasn't our decision – coaching appointments are all taken by British Curling these days.
Glenn has to be one of the most knowledgeable people in curling and the advice he was able to give us over those three years was invaluable to me.
Anytime he spoke, you listened. Having him in our corner was a real positive.
He'll get picked up by another team, that's for sure.
* I'm doing a bit of coaching of my own next week.
I've been asked to go to Moncton in Canada to help out at a curling camp and it will be nice to get a different experience to playing the sport and writing about it in the column!