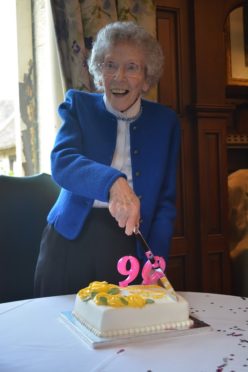 The woman who founded the first private nursery school in Perth in the 1960s has celebrated her 90th birthday.
Muriel Masterson, who also trod the boards with stars of stage and screen at the Byre Theatre in St Andrews, launched the Rose Terrace Nursery in 1963.
She initially enrolled six children and, over the next 35 years as principal, saw hundreds of local children enjoy their pre-school years there.
Muriel celebrated her birthday with family and friends at the Huntingtower Hotel.
Born in Edinburgh, she made her home in Perth following the war years and it was there that she met her husband, Eric.
She started her working life early, serving in her mum's fish and chip shop in Muirton, and helping out in the cafe at Perth Swimming Baths, which her mother also ran.
At 16, Muriel then "ran away" to London and worked as a theatre secretary, before returning to Scotland and appearing on stage at an early age at the Byre Theatre in St Andrews, alongside famous players such as Edward Woodward and Donald Sutherland.
Radical for its time, activities at Rose Terrace Nursery School were based on the Montessori concept of learning.
During this time, Muriel also gained a Licentiate Certificate in Speech and Drama from the Royal Schools of Music and Drama, and spent many years teaching "elocution", as it was known then, to local people.
Her love of the theatre continued, and during the 1970s and 1980s she worked in Perth Theatre's booking office and was also a loyal attendee and stage manager at Perth Drama Club for many years.
Following her retirement from the nursery school after more than 35 years, she continued to work for the community, volunteering for many years in the Save the Children shop in Perth's Kinnoull Street.
Muriel's daughter Sally Masterson said: "Our mum has never sought praise or recognition, and we think it's likely that many more people know her, or of her, than she thinks.
"We're really proud that she's had such an interesting life and look forward to the next decade."