As political unrest continues, Michael Alexander speaks to exiled former Catalan education minister and St Andrews University professor Clara Ponsati about the ongoing struggles by Catalonians to gain independence from Spain – and why she has faith that Scotland's justice system will prevent her extradition to Madrid.
Seated in her basement office at the St Andrews University School of Economics and Finance, it's business as usual for Professor Clara Ponsati as she finishes off a late afternoon tutorial for students and takes a moment to admire the tranquil views of the North Sea outside her window.
It's a world away from the mass protests and violent clashes seen in Catalonia this week in response to nine civil and political leaders being jailed for between nine and 13 years for their role in Catalonia's outlawed 2017 independence referendum.
But when The Courier catches up with the 62-year-old exiled former Catalan education minister for an exclusive interview, perhaps not surprisingly she reveals that her heart is with her former Catalan political colleagues who are now languishing in Spanish jails as she waits to see whether the Spanish authorities, as expected, will serve a new European arrest order against her.
"We were expecting very tough sentences," she says when asked about last week's sentencing and the protests that have followed.
"The fact that we had such a dramatic trial with people being in prison for two years without bail.
"They were not doing that just to make justice. So in a way it was expected.
"But still once it gets confirmed it's a big shock – as we've seen with the protests in Barcelona and Catalonia. People are really outraged."
It's almost two years since Professor Ponsati fled Spain via Belgium having been accused, alongside other Catalan leaders, of violent rebellion and misappropriation of public funds over the disputed referendum which saw Catalonia declare unilateral independence from Spain.
Having returned to work at St Andrews University, the pro-independence Catalan politician was arrested by Scottish police in March last year after Madrid issued a European arrest warrant for an extradition trial.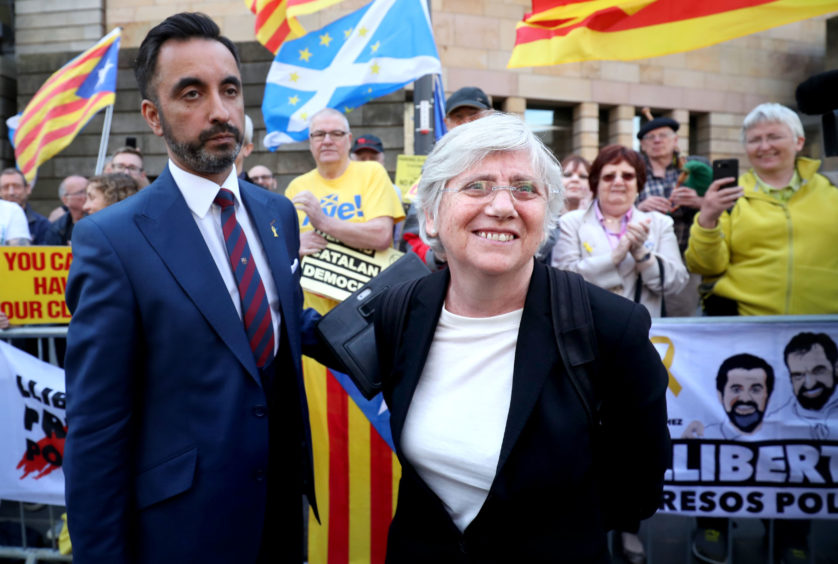 Spain withdrew the warrant four months later in what her lawyer Aamer Anwar described as a "humiliating climbdown".
However, her battle against extradition from Scotland has not gone away, and following the serving of a new arrest warrant against deposed Catalan president Carles Puigdemont who handed himself into Belgian police this week, Professor Ponsati expects Spain to serve another warrant against her imminently.
"I am expecting another order of arrest being issued against me any day now," she says, "because that is what they (Spain) have said they were going to do after the sentences were published.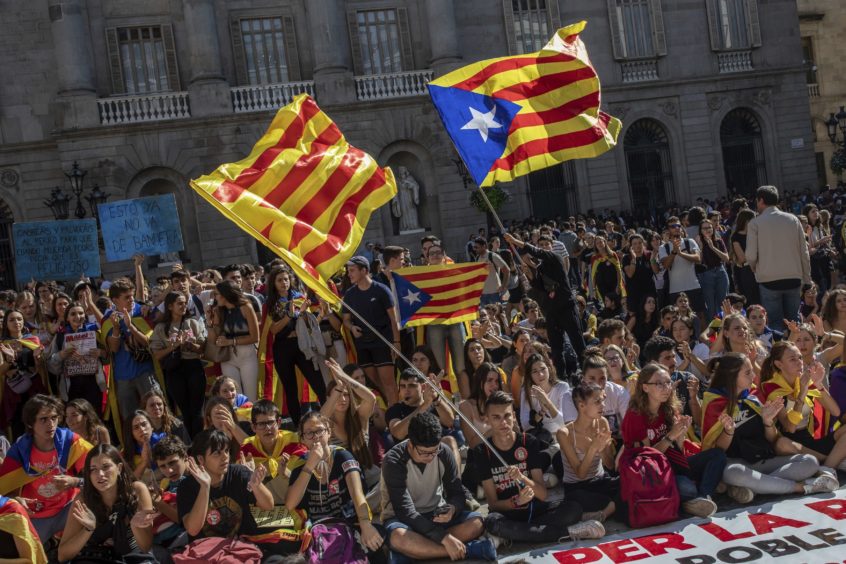 "But they haven't yet. I thought it was imminent a few days ago but nothing has happened. Maybe they are waiting to see what Belgium does with President Puigdemont. I don't know. I'm just waiting…"
A life-long Catalan patriot, the Barcelona-born academic says she's "learned to live with the sort of stress" she's now experiencing as a so-called 'fugitive'.
"It doesn't affect me much," she insists, adding that she would rather face the charges "than be in this limbo forever".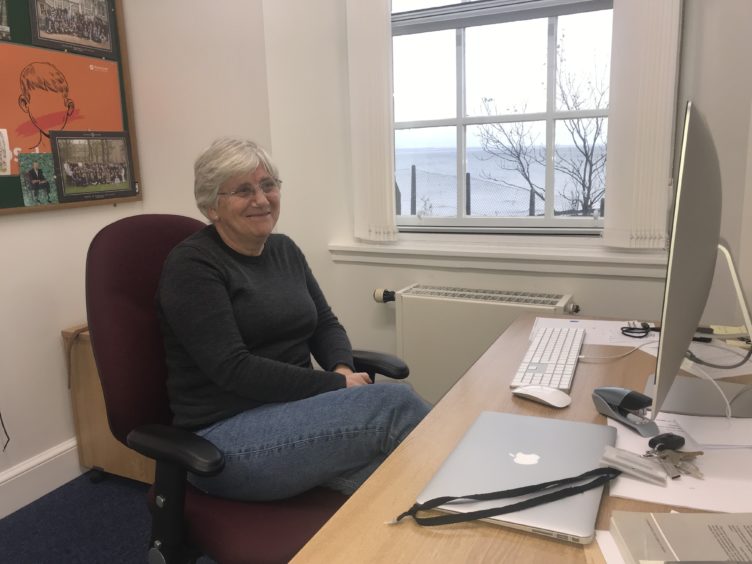 If and when another warrant is issued, she will hand herself in to be arrested by Scottish police and it will be up to a Scottish judge to decide if she should be extradited for trial.
As she awaits her potential date with destiny, however, it's her faith in the independent scrutiny of the Scottish justice system that keeps her going, and she is confident that the next time she returns to Spain – and Catalonia – it will be as a free person.
"I totally trust Scottish justice," she says.
"I think it is quite clear it's a politically motivated prosecution (by Spain).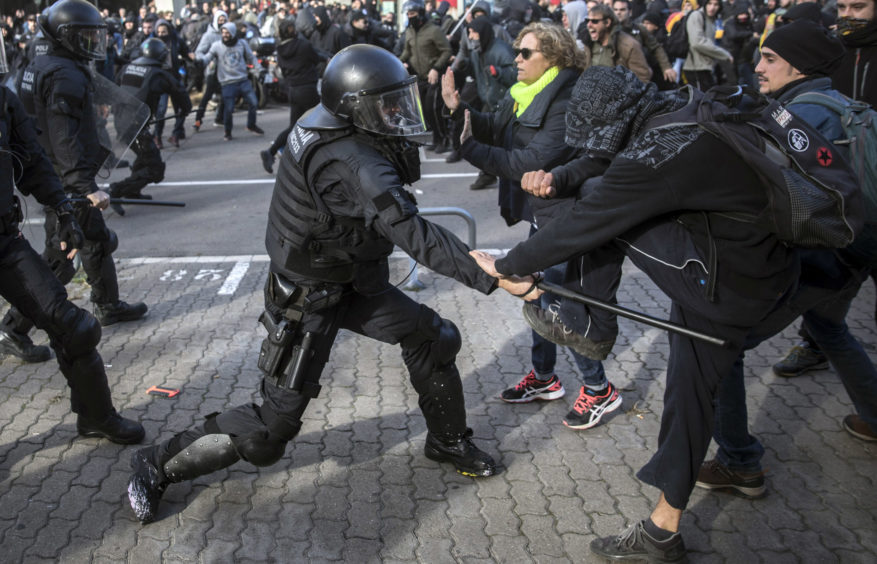 "I believe that any fair judge would see that as well. So I don't expect to go back to Spain. I have this faith in the Scottish system.
"My lawyer and the team of advocates who would be acting in court are also very strong. But I think in this case it's also very clear we have a good case."
Specialising in game theory and political economy, and having worked in academia worldwide, Professor Ponsati was the director of the School of Economics and Finance at St Andrews University from January 2016 before being seconded in July 2017 to the Ministry of Education of the Generalitat of Catalonia.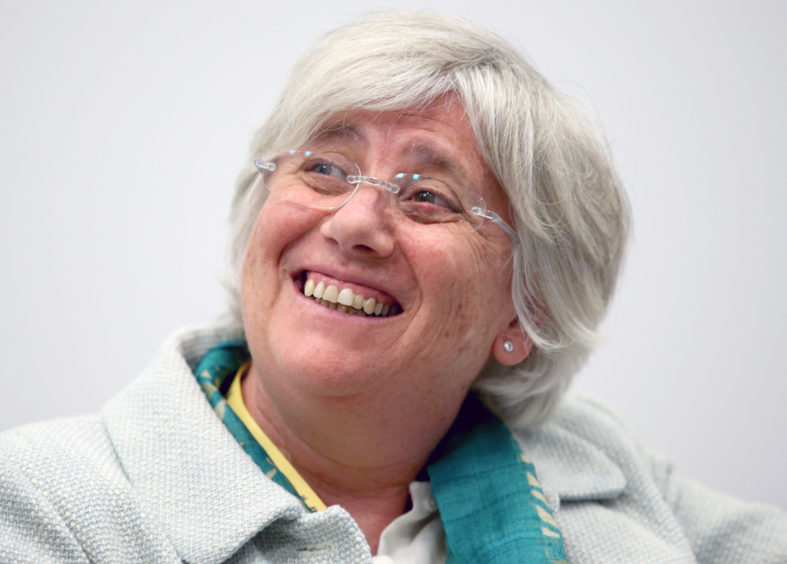 Since mid-2016, she has been a member of the national secretariat of the Catalan National Assembly.
After the Catalan declaration of independence on October 27, 2017, Professor Ponsati, President Puigdemont, and three other former councillors went into exile in Belgium.
A European arrest warrant was issued for all of them but was later retracted.
Professor Ponsati returned to St Andrews University in March 2018, just two weeks before Spain's Supreme Court issued another arrest warrant before that too was withdrawn.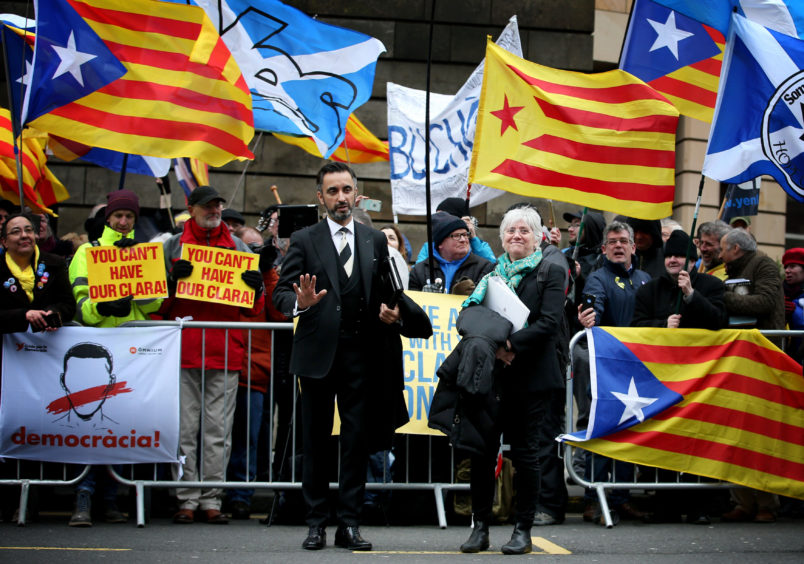 Professor Ponsati said of St Andrews University: "They were open to me coming back to do my job with no reservations. When the arrest issue was made they worked on the presumption of innocence."
With a protest demanding the release of all Catalan political prisoners due to be held by activists in Glasgow's George Square on Saturday October 26, she acknowledges that comparisons are often drawn between Catalonia and the case for Scottish independence.
"There are certain comparisons," she says, admitting she would love to have a Catalonian – and Scottish – passport one day.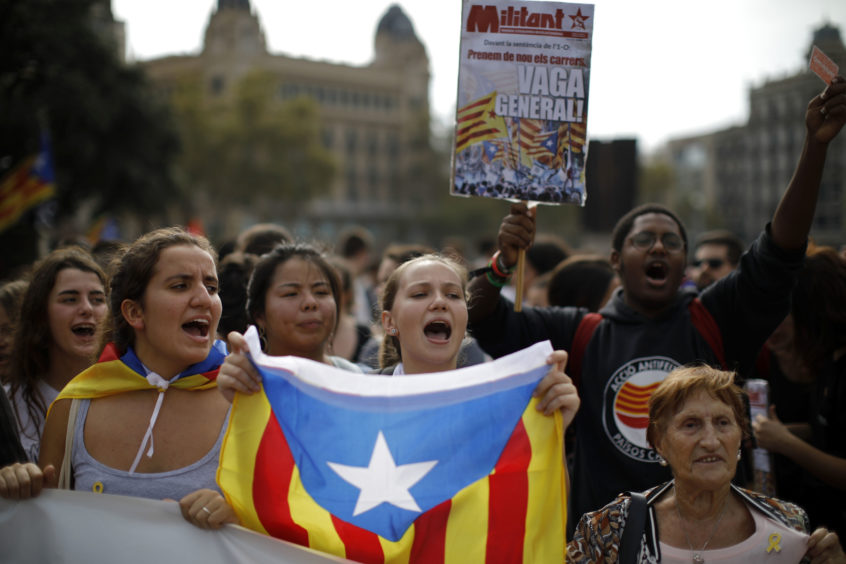 "These are two modern and ancient nations at the same time who don't have their own state and have been sort of struggling for it for the last 300 years."
But she says the conditions in which the Scottish independence debate is developing is very different to the conditions of the discussion in Spain.
"We are not having a discussion: we are having violence," she adds. "These are important differences.
"I sympathise with Scottish independence. But in a way I also have a lot of respect for the institutions of the UK when I compare them to institutions in Spain."
While critical of the way that the "Brussels establishment" has dealt with the Catalonia case, she insists she is a supporter of the European Union project in principle.
She would like to see an independent Catalonia become a member of a reformed EU that is "more democratic and more respectful of small nationalities within the union."
However, despite the current crackdown by Madrid, she believes the "democratic revolution" currently taking place in Catalonia will inevitably lead to its independence – probably within the next few years.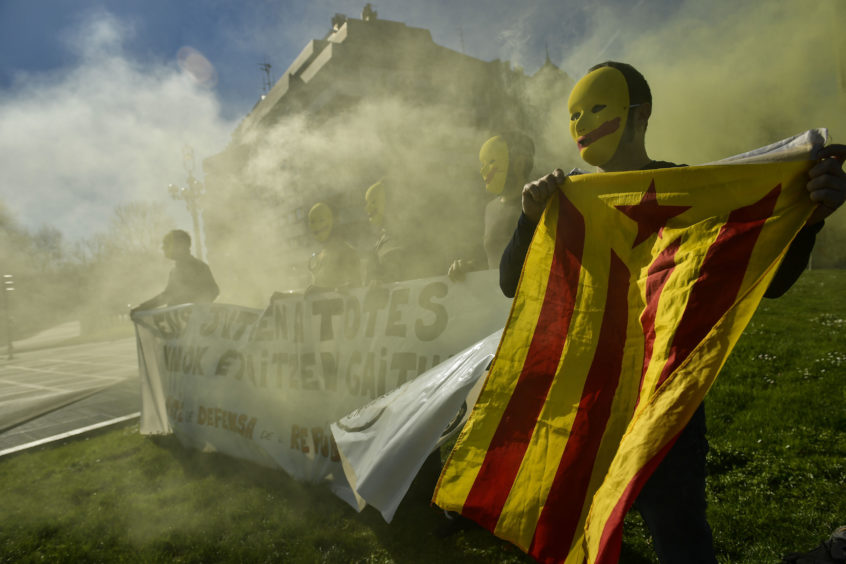 "At this point I'm totally sure that will Spain will never recover the hearts of the Catalans," she says.
"When you've lost the hearts all you can do is create a new nation."
PROPOSALS
*This week, Clara Ponsati published a proposal calling for "peace, amnesty and self-determination" as political unrest continues.
She argued that, with the eyes of the world upon their struggle, protestors must be clear in their aims.
She said: "What do Catalans want? What goals are being pursued by students who leave their classrooms, businesses that stop working and people of all ages and walks of life who take to the streets and occupy railway lines, train stations and airports?
"Why are they standing up to police violence? That's why it is important that those who engage in protests share and endorse the same objectives for the Catalan revolt, even if they mobilise in different ways and to a different extent over time."
In order to assure immediate peace in Catalonia, Ponsati's proposal would demand the withdrawal of "occupation forces", including Spanish police, from Catalonia, the resignation of the Catalan interior minister, and a "thorough" investigation of the widespread police violence that has met the Catalan protests.
Regarding the prison sentences of between 9-13 years handed down to nine of the 12 civil and political leaders last week which spurred the protests, Ponsati's proposal also demands amnesty for Catalonia's "political prisoners", the immediate release of all the other political prisoners, the safe return of exiles such as herself and former Catalan president Carles Puigdemont, and the end of "judicial persecution of the independence movement."
To resolve Catalonia's political crisis, Ponsati finally reiterated growing calls for a "self-determination referendum to validate the creation of an independent Catalan republic."
Such a vote, Ponsati argues, must be organised by the Catalan Government with the agreement of the Spanish Government, and would be supervised by non-specified "international authorities."
She added: "We believe the European Union no longer has any legitimacy to oversee the situation in Catalonia, but we think that there are countries in Europe and elsewhere and international institutions that could validate the outcome of the vote, which should lead to the immediate proclamation of the Republic in the event of a Yes win."