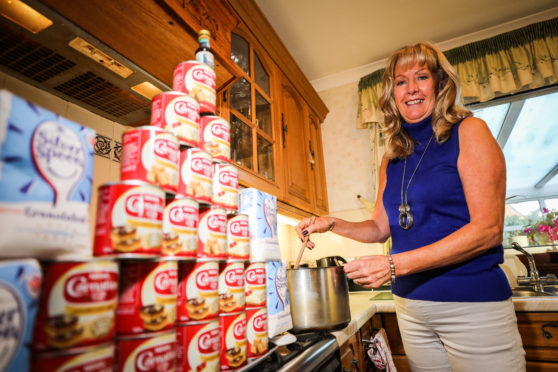 Mix 9,500kg of sugar, 3,772kg of condensed milk, 4,750 litres of milk and 4,750 teaspoons of vanilla essence, cook for 17 years, and raise £85,000 for breast cancer research.
That has been Angus woman Fiona Edwards' recipe for success since 2003 when she first began selling homemade tablet to help support researchers at Dundee University, with £9,500 added into the mix from 2019 taking her total fundraising beyond the staggering total of £85,000.
Fiona's tower of homemade tablet raises nearly £70,000 for vital breast cancer research
Fiona estimates she has baked almost 10,000 trays of tablet since she began her fundraising efforts, meaning somewhere around 175,000 individual squares – more than one each for every man, woman and child in the city of Dundee – have been sold in that time.
Every morning she gets up and makes two batches of the sweet treat before facing the day.
She said: "I have pretty much always got a batch of tablet on the go and I need to keep a stock of ingredients in my house at all times – I've got something like 50 cans of condensed milk in my cupboard at the moment.
"Once again, I would like to thank everyone who supports me by buying my tablet or by giving me a spare pound or two for my efforts. They have made this possible and their continued support means we have been able to give to breast cancer research year after year.
"One of the problems I am finding is that people, especially the younger generation, are increasingly less likely to carry cash so I'll have to find a way round that.
"The majority of the money is raised by me trekking round all youth football matches in Tayside on a Sunday and the teams are always very supportive.."
Through one of those pitch-side conversations, Fiona came into contact with a representative of Dundee food wholesaler Brakes who were so impressed by her commitment they donated a large amount of ingredients to make her tablet even more profitable than usual last year.
She also received a gift voucher from Tesco's customer service centre in Baird Avenue to fund ingredients.
Fiona's exploits also help a second worthy cause as her sweet goods are also sold through Michelle Porter at Balhungie farm shop, near Monifeith, with part of the profits going to helping children in Africa.
Her tablet alone has provided 28,000 malnourished children with a meal via the charity ABC Africa.
Fiona's fundraising feat saw her recognised as Monifieth's inaugural Citizen of the Year by the burgh Rotary Club last summer, with her £100 prize money going straight into the 2019 fundraising pot.
Fiona's funds stay in Tayside and the latest tranche will be used to support the development of a prognostic index for breast cancer which can be used to help decide which patients should be given chemotherapy prior to surgery.
Andrew Evans, Professor of Breast Imaging in the School of Medicine and honorary consultant radiologist with NHS Tayside, said: "Fiona's fundraising is absolutely vital to our breast cancer research and we thank her for yet another year of hard work on our behalf. We simply could not do the work we do without the money Fiona raises for us."