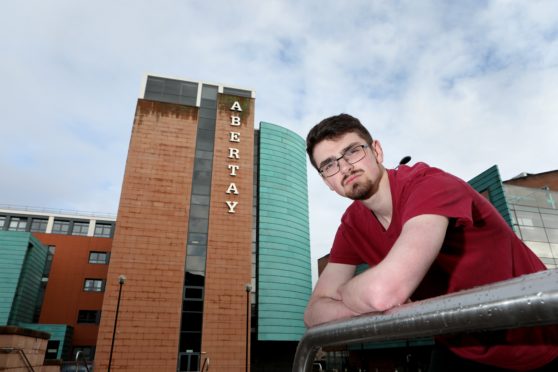 Abertay University has defended its decision to increase student rents amid claims some students are struggling financially.
The university has announced overall rent increases of 2.2% on the only halls it owns at Lyon Street and Meadowside.
Abertay Students Association (ASA) has called on the university to reverse the decision after a recent survey showed a small number of students (20) had reported being unable to afford food or other basic necessities due to accommodation costs.
The increase is due to come in to effect from the next academic year in September and means students will be hit by increases of at least £55 per year.
Abertay University said Dundee was consistently ranked "among the most affordable cities in the UK for student rents".
It said there had been no official complaints about costs and the ASA survey contained responses from less than a quarter of tenants.
Owen Wright, from Abertay Students Association, said he feared poverty was ruining the student experience for some and said the group would continue to fight rent increases.
He said: "We are looking at further potential hardship once these higher rents come in.
"For any students to be going without food and other basics is a worry."
The association says the cost of Abertay-owned halls is currently approximately £410 per month, rising to around £570 a month in third party halls such as Parker House and Keiller Court.
Owen added: "Even a small unexpected increase in rent can really affect people.
"For those receiving the lowest Student Awards Agency For Scotland (SAAS) payments, these increases will hit the hardest.
"In five to 10 years, if these pressures continue, a lot of people will struggle.
"We haven't given up the fight. We will continue to argue for a rent freeze."
A spokesperson for Abertay University said: "All income from student rents is put back into the operation and maintenance of our accommodation, with any small surplus put towards associated services such as student support and out of hours security.
"Our student accommodation is very competitively-priced, reflecting the fact that Dundee is consistently ranked among the most affordable cities in the UK for student rents.
"Every year, demand for our University-owned accommodation remains high, with rates currently starting at just £63.60 per week, inclusive of broadband, heating, lighting, electricity and insurance.
"There have been no official complaints regarding rental rates made to either the University or to Abertay Students' Association, and we note that this survey takes in less than a quarter of tenants.
"We recognise that some students may experience financial challenges depending on individual circumstances, and our Student Services team offers a range of support, including advice on managing money or debt, and access to hardship funding where applicable.
"All of our accommodation is regularly inspected by Dundee City Council and meets HMO licence standards."