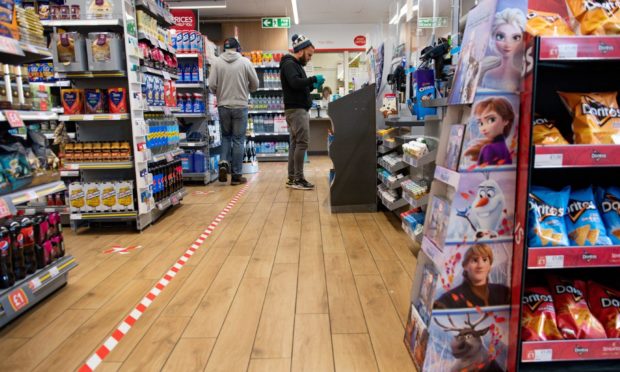 Consumer spending has plunged by a third during the coronavirus pandemic, a St Andrews led study has revealed.
Spending decreased dramatically as government imposed lockdown measures were looming in March and continued to fall after they were implemented.
The study by researchers at St Andrews and Heriot Watt universities found overall consumer spending declined by 32%.
Dr Dimitris Chronopoulos, from the Centre for Responsible Banking and Finance at St Andrews, said: "It is becoming clear that the spread of the Covid-19 virus and the government lockdown are having significant and varied impacts on the level and composition of consumer spending patterns across Great Britain."
Data from a survey conducted on March 25 showed an estimated 57% of workers were engaged in less paid work, 8% had lost employment and those still in work had a 33% chance of being jobless within the next four months.
Nearly half of those surveyed said they would probably struggle to pay household bills in the future.
Researchers found evidence that people in Scotland started stockpiling earlier than in England and Wales as the pandemic took hold.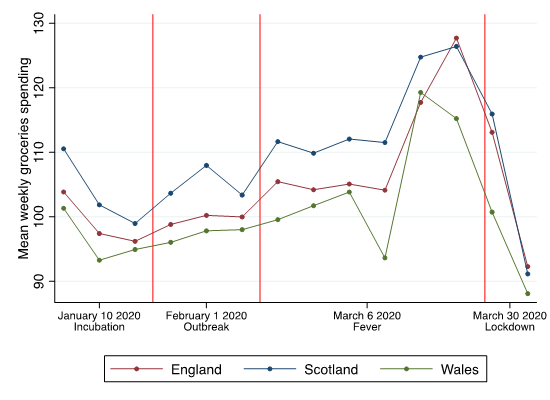 Overall, spending on groceries increased by 13% to 18% during each of the two weeks after the World Health Organanization announced the Covid-19 outbreak had developed into a pandemic.
However, people started to spend less on groceries after lockdown was introduced.
Other findings include an increase in spending on dining and drinking during February and the start of March before a decline of more than 40%.
Men also spent significantly more than women, and young people more than older people. Those on higher incomes bought more goods.
Study co-author Professor John Wilson, from the Centre for Responsible Banking and Finance, added: "Our results are preliminary, but do provide a starting point for policymakers in understanding the real-time and varied impacts of Covid-19 on consumer spending."
Data from 100,000 anonymous individuals and a total of nearly 20 million transactions, covering the period from January 1 to April 7 this year, was provided by Edinburgh-based firm Money Dashboard.
Dr Marcel Lukas of Heriot Watt University said: "Investigating the impact of Covid-19 on consumer spending is very challenging given that official statistics produced by government often come with a significant time delay.
"Fortunately, recent advances in information technology and financial applications have enabled the real time collection of transaction level data which has allowed us to conduct a fine-grained analysis of patterns in consumer spending as they occur."