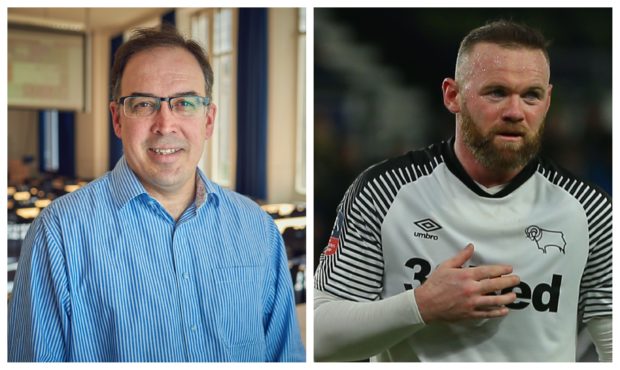 Top sports clubs risk losing their stars if they don't take player support seriously enough amid the Covid-19 threat, a Dundee academic has warned.
Abertay University's Professor David Lavallee believes athletes in sports such as football and rugby may shun higher wages for clubs who pay less but care more about their wellbeing.
Dr Lavallee, who is Professor of Duty of Care in Sport, said the public health crisis will be a test of sports organisations' commitment to their players.
He said: "The relationship between clubs and their players has changed profoundly since Covid-19 and I think we are seeing a fundamental shift.
"What clubs do in the face of Covid-19 and how they respond coming out of it, will have a major impact on their sustainability.
"For the first time, many players are looking at their careers from a different perspective, and I think forward-thinking clubs are seeing this too."
It comes six weeks after English footballer Wayne Rooney said government and football authorities had treated footballers as "guinea pigs" as the virus began to spread in the UK.
The 34-year-old Derby County striker felt there was an unnecessary delay in suspending matches and questioned whether money had been a factor.
Dr Lavallee added: "Players are coming to realise how important it is to play for a club that provides the support they need, and when they need it, for example making a transition to another career after they retire.
"When a player is faced with a choice between two offers in the near future – a higher salary and less support, or less salary and more support – I predict players will elect to play for the club with the best player support structure.
"So, clubs will risk not retaining their best players if they cannot demonstrate that they can provide the support they need.
"And, clubs who have, or develop, a reputation for supporting players will benefit significantly."
The university has developed a new free set of resources to help sports groups meet their safeguarding obligations named Sports IntegriTay.
Created by Abertay University students and supported by Abertay University's Bell Street Ventures enterprise programme, it maps out best practice in issues such as mental health and medical provision.
It can be used by a range of participants, including athletes, coaches, parents, recreational players and many others, and fresh content will be added on a rolling basis.
Professor Lavallee added: "There has been some poor practice used by a number of sports organisations since the crisis began, including some neglecting to support the mental welfare of players.
"Others, however, have been proactive in supporting players in their education and helping them prepare for life after sport.
"It is more important than ever to offer a source of reliable information and guidance that those involved in sports groups can draw upon."