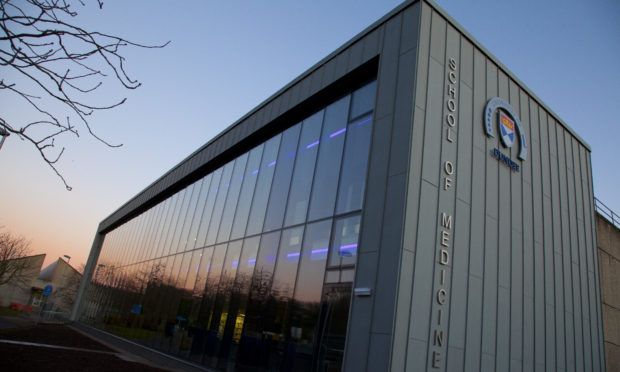 Life cannot go back to normal until a coronavirus vaccine has been found without seeing a spike in deaths, a Dundee researcher has warned.
To reduce the risk of the virus spreading, human contact will need to remain at around 10% of what is was before lockdown, according to the results of an investigation into 70 countries.
The Dundee University research examined the rise and fall of deaths and positive cases around Europe and found social activity may have to be capped at 10% to keep the virus contained at the current level.
Dr Mike Lonergan, who carried out the research with Professor James Chalmers, both of the university's school of medicine, warned people need to change their mindset from the belief that life will return to normal soon.
"The reason we think it needs to be so little contact is we looked at data from other countries and you can see how quickly the virus spread and the way the number of deaths went up compared to how slowly they come down," he said.
"It's pretty clear that things have to stay much more like how they are now than how they were before.
"It is really hard to say to people we can't see a way that your life can go back to normal but it has to be something that we all accept.
"Work needs to happen because money needs to come in but in order to make things workable we need to make dramatic changes.
"It is difficult to say which elements of lockdown will have had the greatest impact in controlling the spread of Covid-19, and that needs to be factored in but until there is a vaccine then it is very difficult to see how we can live without some form of continued restrictions."
With both the Scottish and UK governments considering how and when lockdown restrictions may be lifted, Dr Lonergan urged people to be realistic about how long it may take.
He said: "It is being presented to us so it's not too frightening but we also have to be realistic.
"We can't just say "we'll put up with this for another month then go back to normal".
"We want to cling on to the idea that this is just a brief unpleasantness because it's more comforting but believing we're nearly there if we're not may not be the best.
"I would rather be clear that things aren't going back to the way they were and we need to find a way to be happy with a situation that stops the disease spreading.
"When changes come they will have to make some things restart but they might need to come back and say actually no, this isn't going to work. That shifting backwards and forward will be difficult to sell so I can see why we haven't been given a plan to lift restrictions quickly."
With the UK coronavirus death toll nearing 29,000, Dr Lonergan said it is important to remember the human loss of not adhering to social distancing.
"The difficult question is balancing how long we can carry on like this with how many lives we will lose if we don't," he said.
"It is difficult for people to comprehend the loss when it doesn't directly affect them but if you ask someone 'how long would you be willing to live like this to save the life of someone you know?' they look at it differently and start to accept the restrictions.
"Not many people have been close to someone who has died of it so it can be hard to keep in the forefront of your mind why we have to do this and why it has to be semi-permanent.
"We can't see the benefit of this because we can't see harm that isn't happening but we wouldn't want to see the harm not doing this would cause."
With no vaccine yet and the unwelcome prospect of long-term social distancing, face coverings and tests, it is important to look at the positives the "new normal" is bringing.
Dr Lonergan said: "When out walking people passing at a distance are saying hello when they may not have before.
"People are appreciating the things they previously took for granted. We need to enjoy these things instead of being focused on not being able to go to the pub."