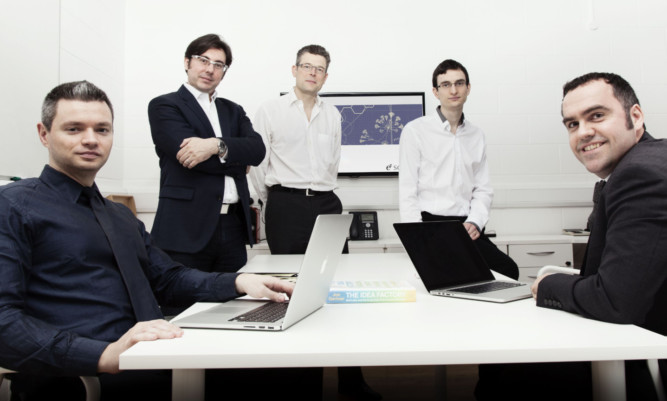 A Dundee University spin-out company has formed a partnership with a German group aimed at developing a drug which can treat cancer and other diseases more effectively.
Ex scientia and Evotec AG will work together to discover bispecific small molecule immuno-oncology therapeutics.
The Dundee biotech company has expertise in developing more effective medicines for a wide range of diseases.
Evotec is a drug discovery alliance and development company focused on producing high quality stand-alone and integrated drug discovery solutions.
It operates worldwide with pharmaceutical and biotechnology companies, academics, patient advocacy groups and venture capitalists.
Ex scientia will contribute its unique algorithmic design platform while Evotec, mainly through its Toulouse site, will be responsible for medicinal chemistry, in vitro and in vivo pharmacology as well as development capabilities and expertise.
Application of bispecific small molecules is seen as an exciting strategy to significantly expand and enhance drug treatment beyond conventional single target therapies.
The initial focus will be cancer-related adenosine targets which are increasingly recognised to play important roles in immuno-oncology.
Combining the specialisms of the partners is thought to hold great promise in boosting the effect and addressing larger patient populations through a single small molecule drug.
Professor Andrew Hopkins, chief executive of ex Scientia, said: "This is an ideal partnership to develop an innovative immuno-oncology portfolio where our focus is on delivering efficacious drug candidates to tackle the inherent challenges of the complex biology.
"Evotec have an excellent track record in project delivery and their proven track record in regarding efficiency gains in drug discovery chime with our own."
Dr Cord Dohrmann, chief scientific Officer of Evotec, commented: "Polypharmacy is a widely used strategy to manage diseases more effectively.
"Ex scientia has built an outstanding platform to purposely design bispecific small molecules that can address multiple targets through a single molecule.
"Together we are well positioned to discover and develop a new generation of small molecule immuno-oncology therapies."