Dundee Dental Hospital and School is 100-years-old. Michael Alexander explores its high-achieving history – and finds out why the deans of nearly half of Britain and Ireland's dental schools cut their teeth there.
If there's one way to sum up what difference Dundee Dental Hospital and School has been making to society for the past 100 years then without a doubt it has been "transforming lives".
Dundee was the first to provide public service dentistry by a not-for-profit private enterprise when it was set up in 1914, decades before the founding of the NHS.
It was the first university based dental school in Scotland from 1916.
It had the first dental qualifications in Scotland with a certificate from St Andrews University in 1918.
And today its reputation still precedes it with Dundee dental alumni comprising heads of six of the 13 dental schools in Britain and Ireland.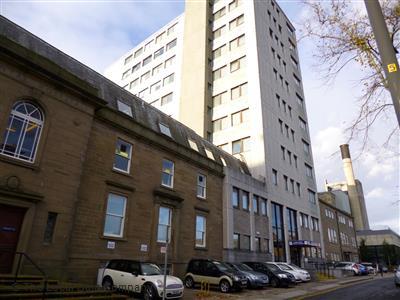 But as the dental hospital brings to a close its centenary lecture series for alumni this week and holds a dinner and civic reception, the president of the Dundee and St Andrews Dental Alumnus Society, Professor Pete Mossey, believes there's far more to the Dundee success story than simply a list of achievements.
The Dundee University dental graduate, who is Professor of Craniofacial Development and Associate Dean for Research, says the "special atmosphere" of Dundee Dental School makes it a conducive environment for excellence.
"Having seen it and experienced it as a student, and having been to many other dental schools both as part of my training and part of my experience, I do feel that there's a unique atmosphere at the University of Dundee in terms of the attitude of staff to the welfare of the students," says Professor Mossey, 55, who enrolled at Dundee from County Tyrone, Northern Ireland, in 1979.
"We are small enough to be able to get to know our students individually and there is a special atmosphere at Dundee for nurturing careers. I think that has been reflected in the number of deanships of other dental schools who started their careers at Dundee."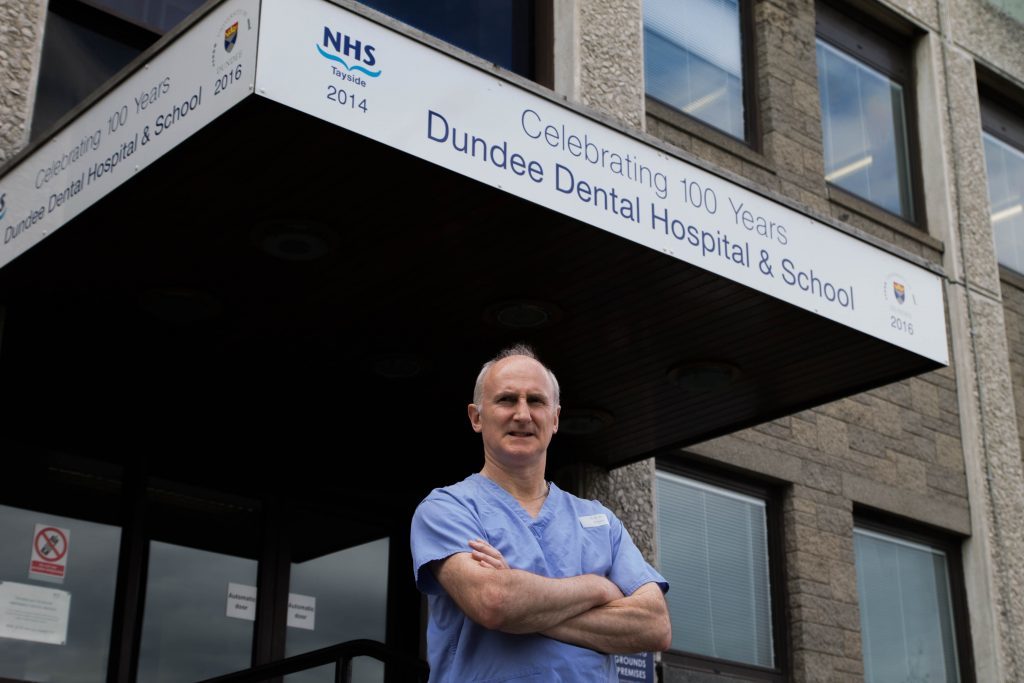 When Dundee Dental Hospital was opened by Sir James Baxter at No. 4 Park Place on February 23 1914, with roots in the public-spirited Dundee Dental Club, it quickly found itself in high demand due to the First World War Forces High Command being insistent that no man leaving to fight for his country should be bothered by toothache.
Expansion quickly followed and by the end of hostilities, the resulting dental hospital was regarded at the time as having the most modern facilities in the country and very much admired.
Since then  the buildings and facilities have changed enormously. and today Dundee Dental Hospital has 50 full time academic teaching staff and a similar number of dental nurses and technicians.
It has helped Scotland become renowned internationally for introducing a programme of dental health at birth. It has helped Scotland introduce the principle of "proportionate universalism" where the greatest resources go to the areas of greatest need, in turn helping raise the number of caries (decay)-free individuals in Scotland by 20%.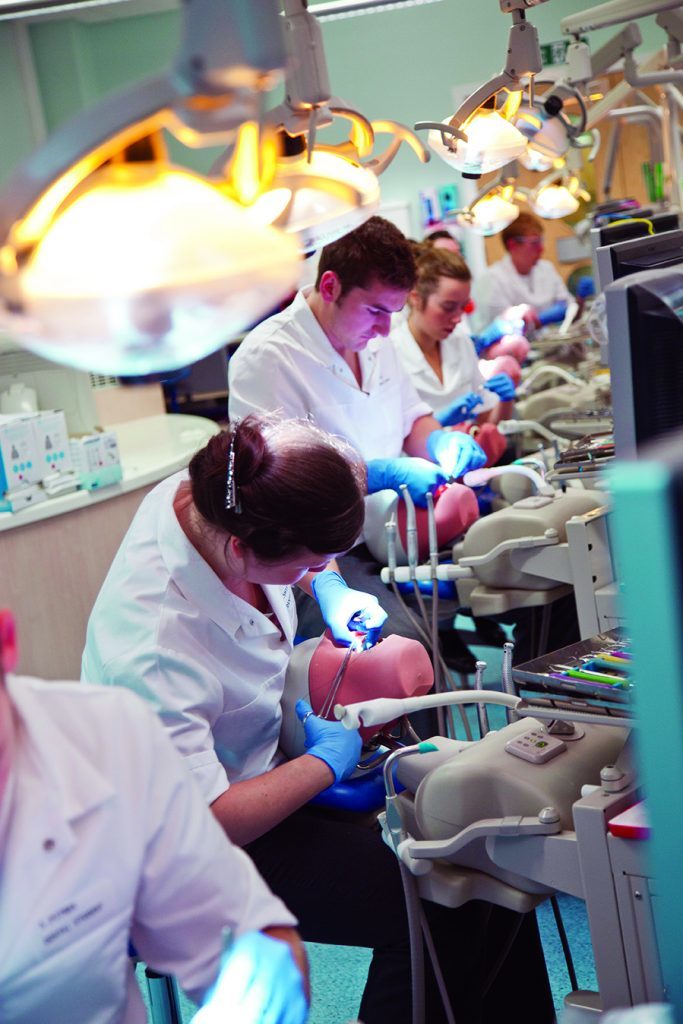 The world renowned Hall Technique was also pioneered at Dundee where instead of drilling cavities a cap is placed on the tooth which seals it off.
Yet with a direct correlation between poverty and dental health, significant inequality persists in Scottish dental health – and this is no less evident than in the City of Dundee itself where according to the Scottish Index of Multiple Deprivation, 23% of under-fives are in poverty.
"We do have a reputation in Dundee for having relatively poor dental health for dental caries in five-year-olds and the determinants do include the sweet tooth phenomenon," says Professor Mossey.
"We still have a very significant problem in Dundee and Scotland as a whole. The most common reason for providing general anaesthetic in a child is for dental reasons.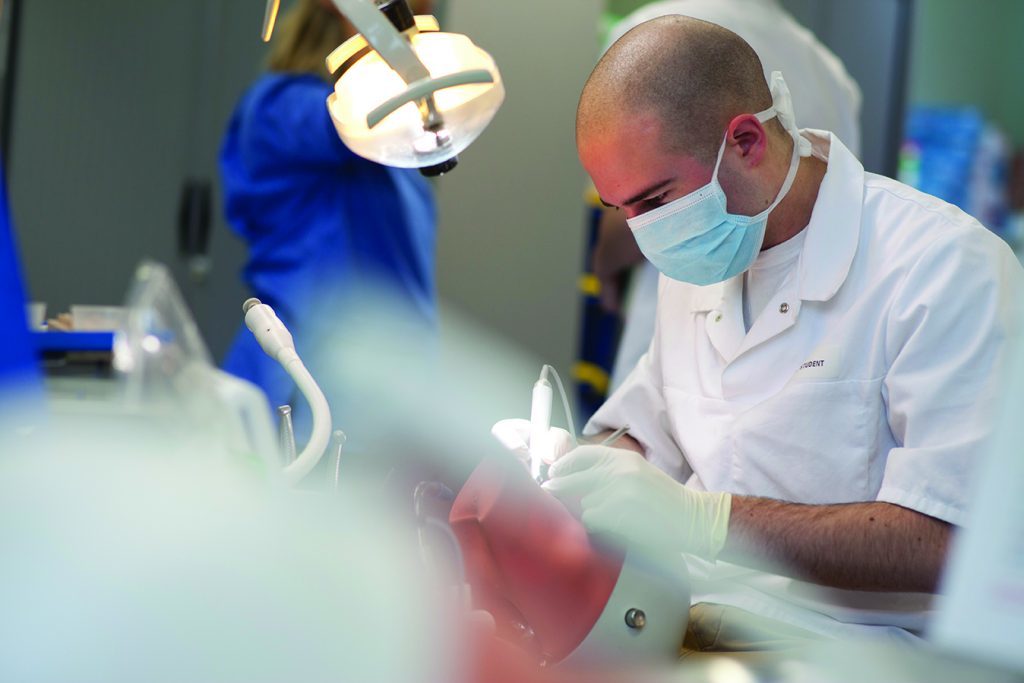 "The dental profession therefore still has a big responsibility for supporting these issues to reduce the instances of dental caries.
"But until such times as the inequalities of poverty are dealt with, there will still be an unequal distribution of dental health. Even with this proportionate universalism, there will still be a tendency to higher incidents of dental problems and dental caries. And at the other end of the age spectrum, we've always had an unenviable reputation for the number of denture-less adults – people who've lost all their teeth. But again that is improving rapidly."
Professor Mossey says the recent announcement that there would be taxation on sugars is on the face of it a very sensible thing to do for obesity, diabetes and dental health. The difficulties are that the greatest consumption of sugar per head of population is in the deprived areas, and therefore often difficult to reach.
Professor Mossey, who has contributed a chapter on research to the book 'Dundee Dental Hospital and School: Transforming Lives for 100 years', now combines his role as a teacher of students, researcher and clinical orthodontist with a particular expertise in children born with craniofacial abnormalities that affect the jaws and face.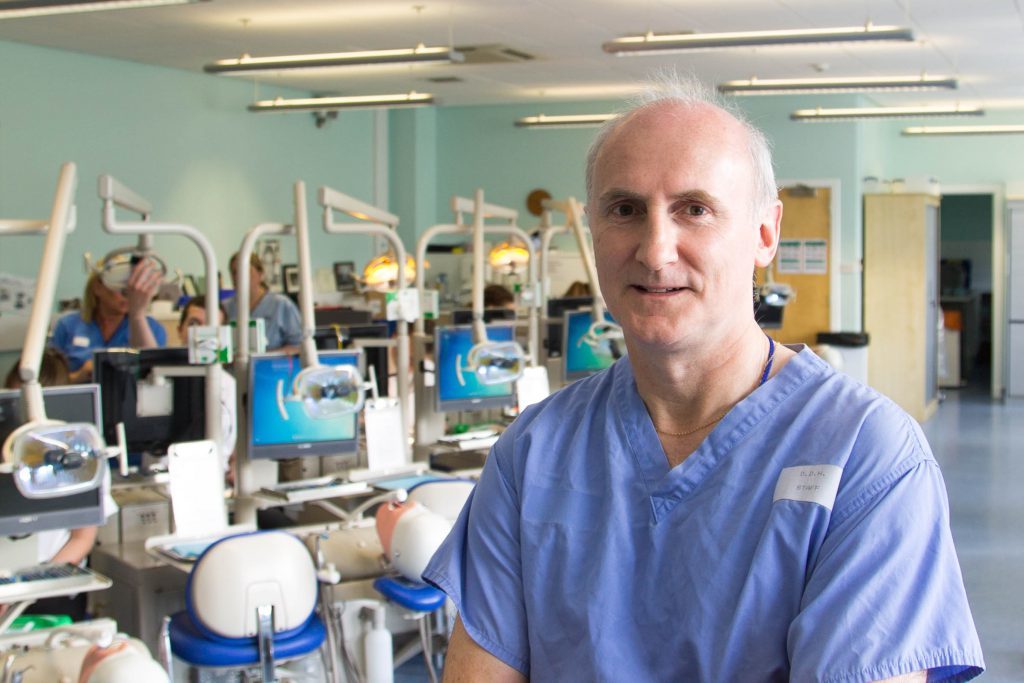 It was Dundee's reputation, and availability of a unique pre-dental course, that first attracted him from Northern Ireland – along with classmate and fellow graduate Michael Mannion who is now a well -established dentist in St Andrews.
And the attraction of the city shows no sign of abating with around 1000 of Dundee University's 18,000 students hailing from Northern Ireland today.
Professor Mossey adds: "Dundee had a very friendly atmosphere and still does.  It was reputed as a dental school and still is.
"The other thing that strikes me about Dundee and still does to this day is the tremendous good will between the people of Dundee and the dental and medical schools. Their willingness for example to be simulated patients at examinations is great.  It's a special place and is still transforming lives every day."
Current students and staff are being joined by alumni from around the world in celebrating the centenary, and a book, 'Transforming Lives for 100 Years' has been produced by Dr Gavin McKay to detail the history and accomplishments of dentistry in Dundee.Professor Calum Youngson's Alumni Lecture takes place at the Dalhousie Building, Old Hawkhill, from 4pm on Friday June 10.The Dental Hospital and School Centenary Civic Reception and Dinner takes place at Apex City Quay Hotel & Spa from 7pm on Saturday June 11.
malexander@thecourier.co.uk