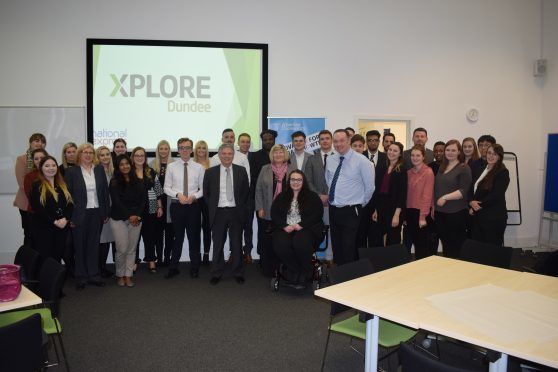 Students at Abertay University were challenged to pitch solutions to local and international businesses.
High-profile organisations such as Coca-Cola, the Scottish Football Association (SFA) and  Swedish bank Handelsbanken took part in this year's Innovation for Global Growth (IGG) event.
Local companies Xplore Dundee, the Wise Group and the city's emerging West Ward Works cultural space also set challenges to the students.
Now in its sixth year, the three-day IGG programme from Abertay's Dundee Business School has attracted brands such as Heineken, BT and RBS taking part in previous sessions.
This year's competition has seen around 120 Abertay students handed briefs by six major firms before being given just an hour-and-a-half to form a solution and pitch back to a panel of executives.
Among the tasks issues facing the participants were attracting customers without mass advertising, creating a communication and marketing plan for a new Dundee operation, supporting Dundee to become a low emission zone and creating a sustainable future for outreach projects.
The finale took place yesterday at West Ward Works, where award-winning social entrepreneur David Cook of Cook Creative will run the rule over the field.
He said: "It's an exciting time for Dundee and students will be asked to take into account Dundee's Unesco City of Design status as well as the Capital of Culture 2023 bid when pitching their ideas for West Ward Works.
"When Abertay approached us about being part of IGG we were delighted to get on board and it's fantastic to be among such an esteemed and varied selection of businesses."
Claire MacEachen, academic curriculum manager for Dundee Business School said the talent shown by students this year had been outstanding.
She added: "IGG is a great opportunity for students to gain first-hand experience of the pressures of a pitching environment and learn what's required in response to business briefs from high level companies.
"Our thanks go to all six of the firms involved in making the event such a success."
The winners will be announced at a later date.