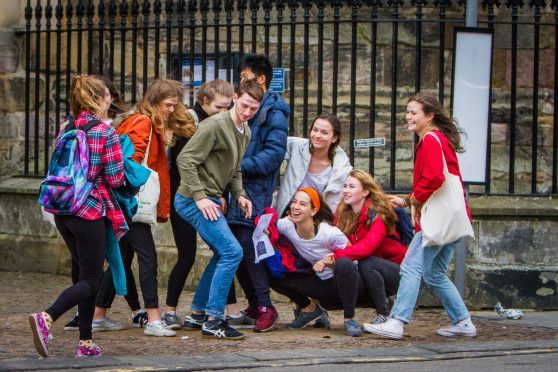 Partying began with the sunrise as St Andrews' Raisin Weekend dawned.
Students at the University of St Andrews dressed up in weird and wonderful costumes and took part in pranks for the revelries which mark the forming of academic families.
For many drinking began early in the morning, before pub crawls later in the day.
The traditional Raisin Weekend festivities include the University of St Andrews' famous Raisin Monday foam fight, which will take place on St Salvator's Lower College Lawn.
Raisin Sunday celebrations  – loved by participants but loathed by many townspeople – have been marred by disorder and crime in previous years.
Police had already warned students that antisocial behaviour would not be tolerated and to ensure they remained safe.
Officers were on patrol from early in the morning and continued their watch through the night.
A team of student union volunteers manned a stall in the town centre, dishing out water and bread to those worse for wear.
There were reports on social media early in the day of students "running amok" in the town centre and jostling members of the public, including church-goers.
Raisin Weekend has evolved from the traditional gift of a pound of raisins from young students, known as academic children, to their elder peers, their academic mothers and fathers.