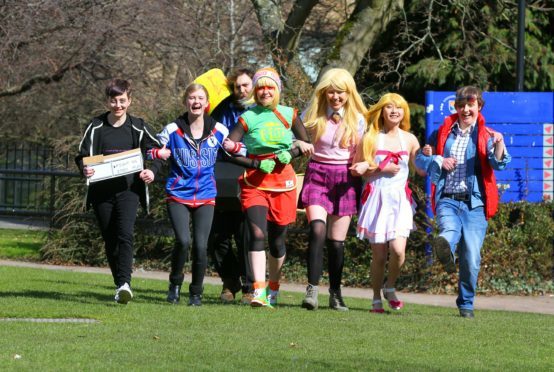 Almost 2,000 comic, science-fiction and anime fans got into character for Deecon at Dundee University on Saturday.
The annual event raises funds for Duncan of Jordanstone's animation students' degree show.
Saturday's event took place at DUSA and surrounding buildings included video games, table top gaming, artists' tables and hundreds of people cosplaying, where they dress up as their favourite characters.
Costumes on display on Saturday included comic book and movie characters such as Deadpool, Spider-Man, The Joker and Harley Quinn while there were also Stormtroopers, Time Lords and horror movie icons like Freddie Krueger milling around.
Deecon also included screenings of anime movies Napping Princess, Your Name and Expelled from Paradise.
Organiser Sarah Sharkey said: "It's really amazing – I was being optimistic but it is so much busier than I anticipated.
"We're really excited about the Dungeons and Dragons games – it's always been relegated to the top of the union  but people have been showing up for it and it has been really popular."
Sarah said she believed Deecon's popularity is because it is organised by students rather than companies simply seeking to make a profit.
She said: "It's different from a big, corporate type of event.
"We try to keep our prices down because we are all students and know how much things cost.
"I feel we've got a better reputation for cosplay than other conventions."
This year's event also included workshops from Duncan of Jordanstone animation graduates who are now working in the movie and video games industries.
Speakers included Sam Rowan, who has worked on films including Ready Player One, Edge of Tomorrow and the two Fantastic Beasts and Where to Find Them movies.
Also appearing was Nikki Christie, who has worked on games such as Call of Duty and Andy Miller, animation director of Criterion Games.