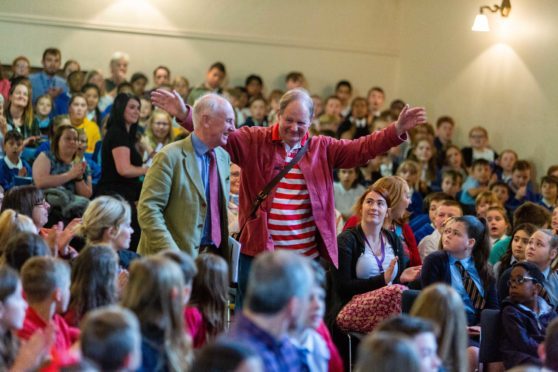 Award-winning children's author Sir Michael Morpurgo met schoolchildren in St Andrews as part of a series of events marking the centenary of World War One.
St Andrews University welcomed Sir Michael — whose work includes War Horse, Private Peaceful and The Butterfly Lion — as part of The Home Front: The United Kingdom 1914-1918, a conference which runs until Saturday.
The university is featuring exhibitions, films, music and public lectures devoted to the mobilisation of British society as a whole, an achievement that had a major role in winning the war.
Sir Michael said: "Projects like The Home Front are so important to help us all remember because so few and fewer everyday remember the First World War.
"There may be stories of great grandparents or people from our villages but we did not and cannot know them.
"All we can do is remember through stories, through music, art, literature and dance, and in our own way we forge anew our connection with them and their times and to pass this on too.
"The trouble is that all those who went to that war and those who died are now unknown. We have to find a way to tell their stories so that the significance of what they did can be remembered. Above all, we have to remember they were individuals, mostly young men, sons, brothers, fathers who lived and died. They are part of who we are."
Hosting the conference is eminent military historian Professor Sir Hew Strachan.
Sir Hew said: "I am delighted that Michael Morpurgo has found time in a very busy schedule to come to St Andrews to support our week-long programme of events to mark the First World War Centenary on the Home Front.
"But my delight will probably pale into insignificance compared with that of the hundreds of school children who joined him today and whose understanding of the war has been so shaped by his books."
Other events, all of which are open to the public, include a public debate on the meaning of remembrance with panellists including director of the 14-18NOW arts programme Jenny Waldman and Birdsong author Sebastian Faulks.
On Thursday there will be a screening of factual films from the archives of the Imperial War Museum with piano accompaniment from Stephen Horne.
More information can be found at the website britishhomefront.co.uk.