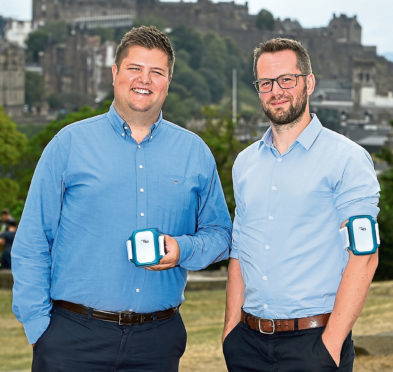 A former Dundee University medical student turned entrepeneur has overseen an $8 million funding round to further progress the wearables healthcare firm he founded.
The seed financing for snap40 – which was set up by chief executive Chris McCann in 2015 – is believed to be the largest to date in the UK digital healthcare space.
The fundraising was led by ADV with participation from MMC Ventures and brings total funding for snap40 to $10m.
A number of prominent business figures including Skyscanner's Gareth Willians and Craneware's Gordon Craig took part in the funding round.
Existing investors Par Equity and the Scottish Investment Bank have continued their support.
snap40's AI-enabled platform uses a wearable device to monitor patients' vital signs and is designed to flag any deterioration in their condition.
The device – which will be showcased in the new V&A Dundee design museum – has also been used in hospitals, in clinical trials and to monitor the health of patients with chronic conditions.
Mr McCann said building a new healthcare firm from scratch was "impossibly hard" but the new seed funding showed the effort was worth it.
"We started snap40 because of our core belief in the preciousness of human life and the desire to protect it," Mr McCann said.
"Through our wearable device, we offer a complete picture of human health, and we apply AI to that real-time data to identify health deterioration earlier.
"We're scaling quickly. By the end of this year, we'll be 50 strong. We were just five at the start of 2016."
snap40 is based in Edinburgh but also has operations in New York.
"Monitoring, protecting and improving health is of importance to all corners of society," Mike Dimelow, chief investment officer at ADV, said.
"snap40 addresses that through a wearable device with smart technology built-in that allows us to identify human health risks with incredible accuracy.
"We see this evolving into an AI-driven platform on which snap40 and others can use and process health data from wearable products of the future, to identify sickness and disease patterns.
"The quality of the founding team, angel investors and progress to date have made us really excited about the potential here to redefine health monitoring and extend its reach well beyond hospital walls."