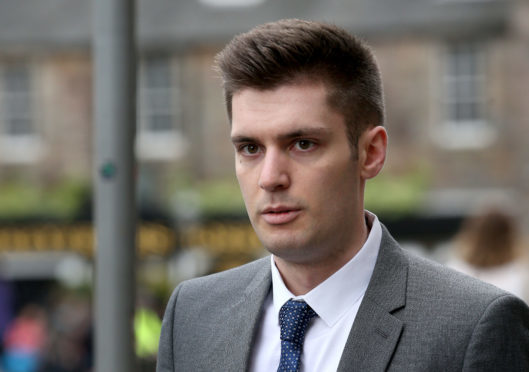 A former St Andrews University student has won £80,000 in damages from a man who had been cleared of raping her after a night out in Fife.
Stephen Coxen, from Bury in Lancashire, had walked free from the High Court in Livingston back in 2015 after a jury delivered a not proven verdict.
But the 23-year-old has now been successfully sued by his accuser, who was granted legal aid to pursue a civil case.
The woman, who was a second year student at St Andrews at the time of the alleged assault, said she was raped after a night out in the Fife town in 2013 by Coxen, whom she did not know.
Coxen denied the charges and was cleared after a trial, but Sheriff Robert Weir, after hearing evidence at the Personal Injury Court in Edinburgh, has ruled that the woman, who is now 23-years-old, had been "cogent, compelling and persuasive".
In a written judgement, the sheriff said it was his view Coxen had taken advantage of the woman at some time between 2am and 2.30am on Saturday Sepember 14 in St Mary Street.
"I consider that it has been established on the balance of probabilities that the defender ignored what would have been obvious signs of the pursuer's intoxication, took advantage of her in that state, and continued to do so even when she began to evince distress and attempted to resist him," he said.
The verdict has been welcomed by women's rights groups who stressed that the woman felt let down by the justice system and felt she had to pursue justice herself.
Sandy Brindley, chief executive of Rape Crisis Scotland, described it as a "landmark" judgement.
"While this is a victory for her, she should not have had to go through the ordeal of two trials to search for some form of justice," he said.
"Unless there are radical improvements to how the Scottish criminal justice system responds to rape, we anticipate seeing more and more women turning to the civil system in a desperate search for justice".
Simon Di Rollo QC, counsel for the woman who raised the action, added: "The pursuer is an extremely courageous woman.
"It is understandable that she found it impossible to come to terms with the verdict of the jury in the criminal proceedings. Although the findings by the Sheriff in these civil proceedings are of assistance there can be no doubt that her experience of the criminal justice system was unsatisfactory.
"Unfortunately, that is not as unusual as it should be."
Sarah Crawford, JustRight Scotland's lead solicitor for the Scottish Women's Rights Centre, who acted for the pursuer, added. "We welcome this landmark judgment, and what it means for our client.
"We also believe this a great example of what can be achieved when lawyers work strategically with non-lawyers, to progress our collective goal of reducing barriers for women accessing justice.
"Many victim-survivors of sexual violence seek compensation not for financial gain but for the recognition of what has happened to them. In such cases the decision itself serves as a form of justice.
"Even so, the impact of bringing a civil case on survivors of rape is significant, involving additional stress, cost (financial and personal) and repeated re-traumatisation.
"We believe this case highlights features of the Scottish criminal justice system which have led to low numbers of convictions for rape and sexual assault – including the need for corroboration, the "not proven" verdict and the lack of standing of the complainer (the victim) in criminal proceedings".
Mr Coxen's lawyer, Mark Thorley, said: "He (Stephen Coxen) is considering the judgement and will look at his options thereafter."
The personal injury court judgement follows a hearing in June.
A spokesperson from the University of St Andrews said their student services team had provided "continuing practical and pastoral support" to the woman, initially as a student and latterly after she graduated and became a member of staff at St Andrews.
"It has been an understandably difficult case which had a major bearing on her wellbeing and future plans, and we are very pleased for her that it has now reached a conclusion," the spokesperson added.