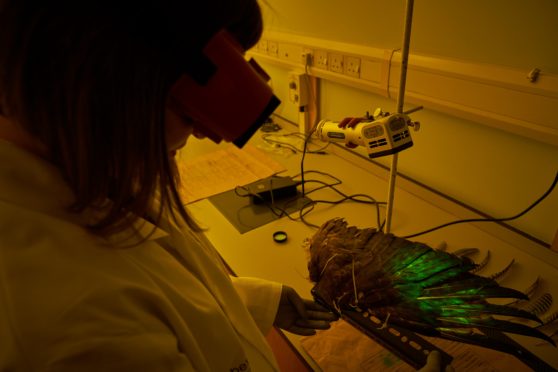 Scientists at Abertay University have made a major breakthrough that could lead to an upsurge in convictions for wildlife crimes.
A study carried out by the university has found fingerprints can still be recovered from bird feathers, even if they have been left outside and exposed to the elements for some time.
Previous research by PhD student Helen McMorris had discovered fingerprints could be obtained from feathers under laboratory conditions.
Now, she has been able to prove it is possible to recover them from feathers that have been exposed to environmental conditions such as wind and rain.
In the long term, it is hoped the research will make it easier to trace and prosecute the perpetrators of wildlife crimes.
According to the latest RSPB Birdcrime report, there were 68 confirmed incidents of raptor persecution last year, with only four prosecutions. From these, just one led to a successful conviction.
Investigations into such incidents can be extremely difficult as there is no accurate measure of determining human involvement.
---
>> Keep up to date with the latest news with The Courier newsletter
---
Helen – also a Teaching Fellow at Abertay – said: "At this moment in time toxicology tests can prove that a raptor has been poisoned, and you can prove that a bird has been shot through x-rays and post-mortem.
"But there's no way of telling if a human has had any contact with that bird if it's found dead in a field or on a hillside.
"You have to assume there has been foul play of some description but you can't hone in on the actual person responsible.
"This technique potentially gives investigators the chance to prove actual human involvement in raptor persecution, be it through an identifiable fingerprint or a touch mark from a human finger that identifies exact areas of contact on the bird-of-prey."
Head of science Dr Ben Jones, added: "As part of Abertay's research in improving forensic investigation techniques, this study is an important step in moving from the laboratory closer to a real-life situation, as the technique moves from research to development for use in an investigative setting."