A Dundee University graduate's career is blooming after her flower-inspired house won a major design competition.
Katarina Spenerova won £30,000 after her house, called PETAL, wowed judges of the Society of British and International Design's Student Design Competition.
The modular house has a hexagonal central living area with different rooms on each side of the building.
Rooms can be added or removed depending on whether the household needs additional rooms or no longer requires as much space as before.
Having taken six months out after receiving her Bachelor's Degree with Honours in Interior and Environmental Design in the summer, Katarina, who lives in Aberdeen, said that the prestigious accolade will help her career take root.
The 32-year-old said: "Being named overall winner is a massive achievement.
"As a finalist I was invited to attend the award ceremony at the House of Commons in London.
"I didn't know I was the overall winner until the announcement on the night. I felt privileged to be granted the award and incredibly delighted and proud to receive recognition for what I created.
"The win has made me trust my abilities and made me even more determined to achieve my goals. I believe the credibility of the award will really help me when pursuing employment within the design industry."
Katarina's PETAL concept is a modular community building system designed in response to environmental and social change.
The project was influenced by the increasing number of people living alone, meaning that many households today tend to be under-occupied, while older homeowners often refuse to downsize.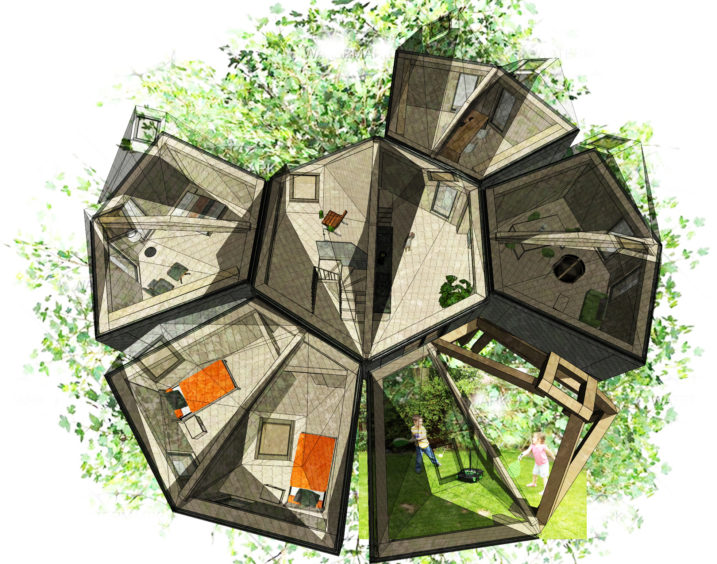 According to their changing circumstances and requirements throughout their lives, PETAL allows homeowners to stay in their communities for longer by adding or removing modular rooms, similar to petals extending from the centre of a flower.
Having been developed as her final year project, it was Andy Milligan, the Interior and Environmental Design course director of the University's Duncan of Jordanstone College of Art & Design, who encouraged Katarina to enter PETAL in the competition.
She said: "The opportunity to submit my project to such a renowned platform could not be missed and I am honoured to have been named as winner. It will make a real difference in my career.
"Even before I started studying at Duncan of Jordanstone I knew what I wanted to achieve in my life.
"This life-changing award will ultimately help me launch my own creative business in the future, potentially developing the PETAL building system further and taking it into production."