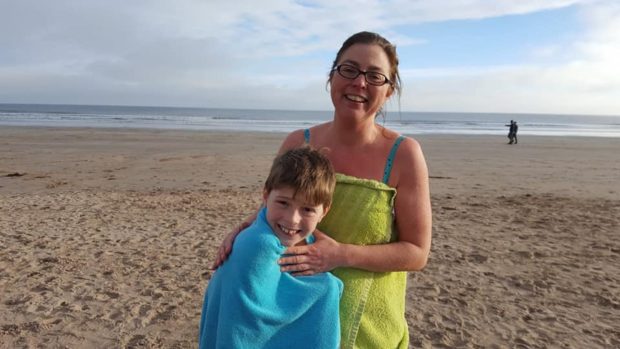 A university academic is taking 28 chilly dips in the North Sea to help 28 refugee families in Athens.
Professor Rebecca Sweetman witnessed the plight of those who had fled countries including Syria, Kurdistan and Afghanistan while living in the Greek capital last year.
After braving the New Year's Day loony dook in St Andrews she came up with the idea of, literally, taking the fundraising plunge.
She aims to complete her month of swims before the end of February.
Professor Sweetman, of St Andrews University's School of Classics, said: "These families have no sources of income and rely on the kindness of folk to keep them supported with food.
"More often than not, things like soap and shampoo are just not affordable."
In Athens, she was among a group of volunteers providing food and support for the refugees.
She visited children living in an abandoned school, turned into a squat by their families, and played and read with them.
Professor Sweetman said: "There are around 28 families living at the squat and that's why I plan to do 28 swims in the North Sea.
"After doing the New Year's Day dook I thought it would be a massive challenge to do it again, perhaps even worth sponsoring, to do it 28 times.
"As I am returning to Athens in the spring, I would like to be able to help the families at the squat with some basic necessities and to help pay for some of the food deliveries."
Already, she has completed a quarter of her dips and raised more than £1,000, which will pay for around a month's worth of food.
She is continuing to raise money and has set up a crowdfunding page.
She said: "There is no getting away from the fact that the North Sea is cold, and frost on the beach after a swim is particularly challenging, but I have been given amazing support from so many people – some of whom have even joined me in the water and there have been some fantastic sun rises."
Donations can be made via https://www.justgiving.com/crowdfunding/28-swims-28-families?utm_term=54DjDjNeE.